126: How Money Affects Your Significance and Security
Jesus talks about money and related issues of the heart more than he talks about heaven and hell or pretty much anything else. Pretty interesting, huh? In this episode of Lifeschool, we look at how our ultimate understanding of the gospel affects how we view and use money, and how our generosity flows from our understanding of grace.
Who sets your priorities when it comes to money?
Whose money and resource is it–really?
If you lost all of your money tomorrow, how would your IDENTITY and security change?
In This Episode You'll Learn:
Why Jesus connected money with the desire of our hearts

How money can affect our significance and our sense of security in life

How to determine if you are living as a "conduit" or a "barrel" when it comes to God's provision and endless supply of resources

What "gospel tipping" is and how small acts of generosity affects our hearts

A perspective on retirement and leaving an inheritance that may surprise you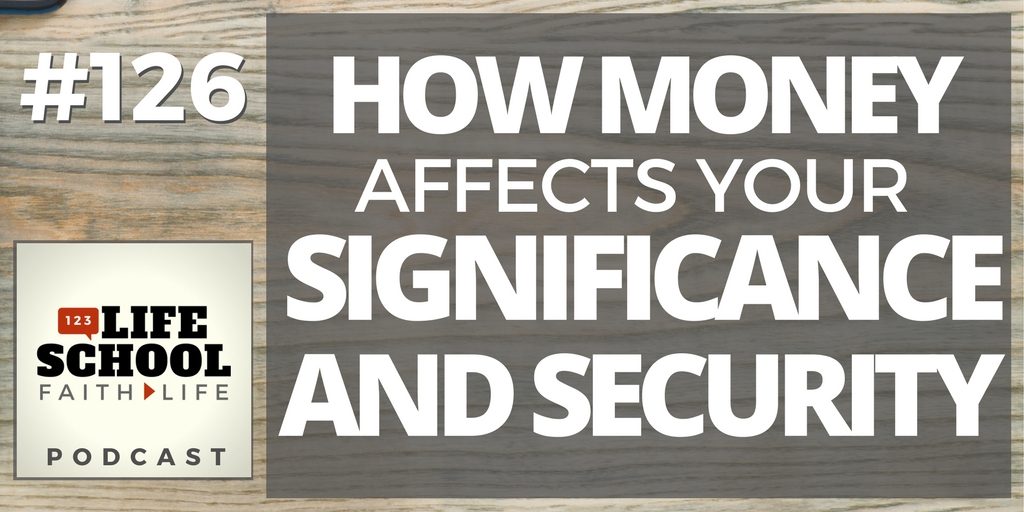 All of us can break free from our slavery and attachments to money by trusting and treasuring Jesus, who was willing to pay the ultimate price. His generosity and sacrifice guarantee our significance and security–forever!
Each week the Big 3 will give you immediate action steps to get you started.
Download today's BIG 3 right now. Read and think over them again later. You might even want to share them with others…
Thanks for Listening!
Thanks so much for joining us again this week. Have some feedback you'd like to share? Leave a note in the comment section below!
If you enjoyed this episode, please share it using the social media buttons you see at the top of this page or right below.
Also, please leave an honest review for The Lifeschool Podcast on iTunes. Ratings and reviews are extremely helpful and greatly appreciated! They do matter in the rankings of the show, and we read each and every one of them.
Links and Resources Mentioned in This Episode:
Free Download of the Big 3 For Episode #126
The Gospel in Everyday Life FREE Webinar
Missio Publishing – More Missional Books and Resources