127: Decision Fatigue: How to Make Better Decisions
Do you ever feel like if you have to answer one more question or make another decision today your head is going to pop off? Does it seem harder to remain patient with others as the day wears on? In this episode of Lifeschool, we talk about the concept of "decision fatigue," why it may be the culprit for many of your bad decisions, and why we often find it hard to stay on mission.
Author and Science Editor for the New York Times John Tierney says, "Decision fatigue helps explain why ordinarily, sensible people get angry at colleagues and families, splurge on clothes, buy junk food at the supermarket. No matter how rational and high-minded you try to be, you can't make decision after decision without paying a biological price."
In This Episode You'll Learn:
The difference between lacking will-power and decision fatigue

How to know if you're suffering from decision fatigue

How decision fatigue affects our best discipleship and missional efforts

How to reduce decision fatigue on a daily and lifestyle basis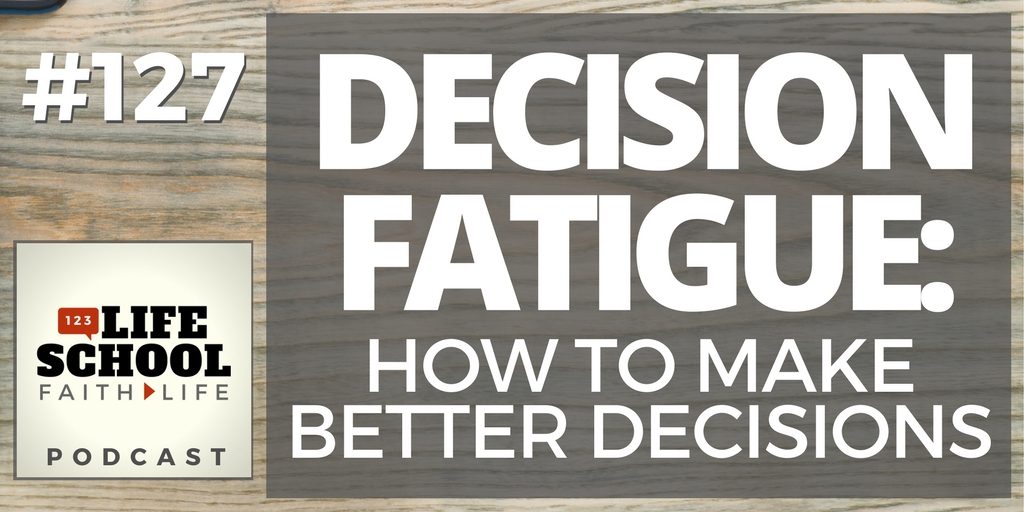 If you've ever wondered why you have not had success with certain things you hoped to get done, it could be related to decision fatigue. Instead of hoping each day that you'll make the right decision (get up early for the gym, write that book, call your parents more often, etc.) you will find hope in this week's episode!
Each week the Big 3 will give you immediate action steps to get you started.
Download today's BIG 3 right now. Read and think over them again later. You might even want to share them with others…
Thanks for Listening!
Thanks so much for joining us again this week. Have some feedback you'd like to share? Leave a note in the comment section below!
If you enjoyed this episode, please share it using the social media buttons you see at the top of this page or right below.
Also, please leave an honest review for The Lifeschool Podcast on iTunes. Ratings and reviews are extremely helpful and greatly appreciated! They do matter in the rankings of the show, and we read each and every one of them.
Links and Resources Mentioned in This Episode:
Free Download of the Big 3 For Episode #127
The Gospel in Everyday Life FREE Webinar
Missio Publishing – More Missional Books and Resources