179: Why Conflict is Not All Bad. How to Resolve It When It Is
When we hear the word "conflict," it is usually perceived as a negative thing. However, there is a reason why conflict is not all bad, and can be either a positive or negative thing. The key is understanding the difference.
This week on the Lifeschool Podcast, we are going to show you how to recognize and engage in healthy conflict in a way that repairs relationships and shows the world what God is truly like.
The problem with conflict is that the two types usually run counter-intuitive to our inherent emotional state as humans. Therefore, human nature is to squash the conflict that is most apparent (the good kind) and adjust to the subtle conflict that no one can quite put their finger upon (the bad kind).
In This Episode You'll Learn:
The glaring difference between the two kinds of conflict you experience.

Why we're hard-wired to avoid the good type of conflict and embrace the bad.

How conflict actually presents you with an ideal environment for discipleship.

Ideas and steps for resolving a current conflict in your life or community.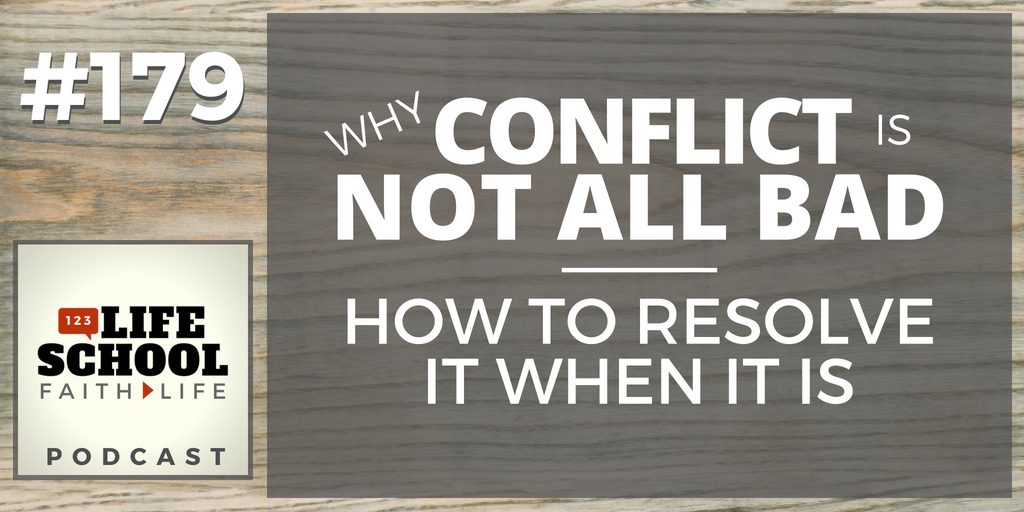 From this episode:
"Behind every conflict lives a series of lies and unbelief. Identifying those and replacing them with the truth about God, ourselves, and how we GET to live is always the goal. That's what discipleship is and how we experience the Kingdom of heaven now… here!"
Each week the Big 3 will give you immediate action steps to get you started.
Download today's BIG 3 right now. Read and think over them again later. You might even want to share them with others…
Thanks for Listening!
Thanks so much for joining us again this week. Have some feedback you'd like to share? Join us on Facebook and take part in the discussion!
If you enjoyed this episode, please share it using the social media buttons you see at the top of this page or right below.
Also, please leave an honest review for The Lifeschool Podcast on iTunes. Ratings and reviews are extremely helpful and greatly appreciated! They do matter in the rankings of the show, and we read each and every one of them.

Links and Resources Mentioned in This Episode:
Free Download of the Big 3 For Episode #179
Caesar Kalinowski's Website and Blog with Loads of Resources
Missio Publishing – More Missional Books and Resources
In light of today's topics, you might find these resources helpful: