178: Why You Want To Be A Mentor To A Child
Most of us would agree with the age-old saying, "The youth of today is the future of tomorrow." But how many of us take that sentiment seriously enough to actually do something about it?
This week on the Lifeschool Podcast, we talk about the opportunities for mentoring those who are eventually going to take our place in the world with author and experienced mentor, Dr. Rick Bartlett.
Kids and youth today are open to you engaging them in the journey of discovery they are on. As their world moves from concrete and simple to more abstract and nuanced, they are looking for guides, sounding boards, and encouragement. You can be that for them!
In This Episode You'll Learn:
Why you don't need to be married or a parent to be an excellent mentor.

How the Church can offer youth a different message than the culture does today.

The ways that young people may be "called" at an early age.

Ways you, your church, and your community can help young people engage with their faith.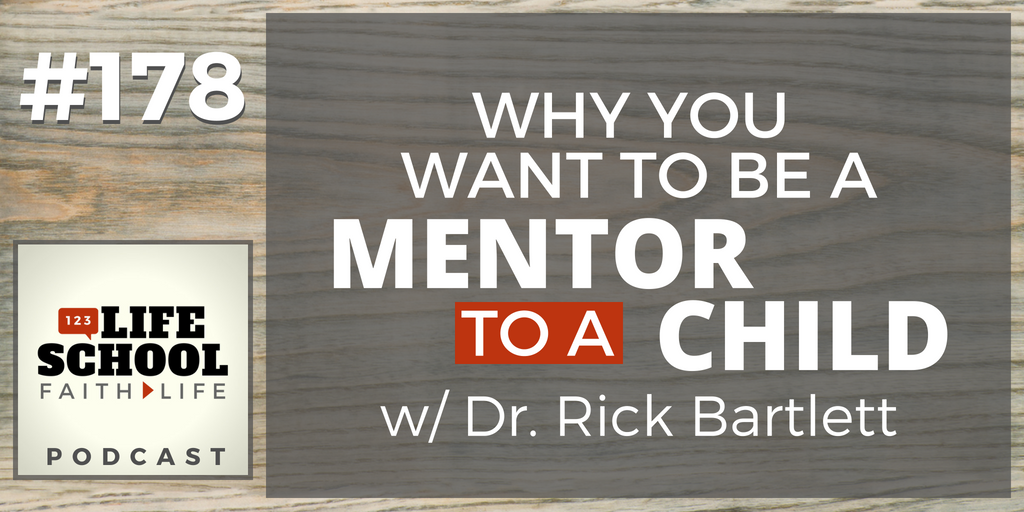 From this episode:
"You can pour words of affirmation about true identity into the youth in your life. Reinforce that they are image bearers of God… and have been given a very high calling, authority, and privilege through Christ."
Each week the Big 3 will give you immediate action steps to get you started.
Download today's BIG 3 right now. Read and think over them again later. You might even want to share them with others…
Thanks for Listening!
Thanks so much for joining us again this week. Have some feedback you'd like to share? Join us on Facebook and take part in the discussion!
If you enjoyed this episode, please share it using the social media buttons you see at the top of this page or right below.
Also, please leave an honest review for The Lifeschool Podcast on iTunes. Ratings and reviews are extremely helpful and greatly appreciated! They do matter in the rankings of the show, and we read each and every one of them.

Links and Resources Mentioned in This Episode:
Free Download of the Big 3 For Episode #178
Caesar Kalinowski's Website and Blog with Loads of Resources
Missio Publishing – More Missional Books and Resources
In light of today's topics, you might find these resources helpful:

.cf-scroll-wrapper { background: #00000075;}