180: How to Say NO and Get Out of Bad Commitments
Whether caused by fear of man or the fear of missing out (FOMO), most of us need to learn to say "no" a whole lot more often.
This week on the Lifeschool Podcast, we'll teach you how to say no more often in life and how to un-commit yourself from the things that you shouldn't have said yes to in the first place.
Saying no to people is not easy. Sometimes we give in and say yes to please others, but saying yes to everything and everyone is impossible and leads to burnout. Let's master the art of gracefully saying no and uncommitting.
In This Episode You'll Learn:
Why we find it so hard to say "no" to people.

What the Bible teaches in connection with bailing out on commitments.

10 ways to gracefully say no to people…

plus a bonus to use with telemarketers!

The right way to uncommit to things you should not have said yes to.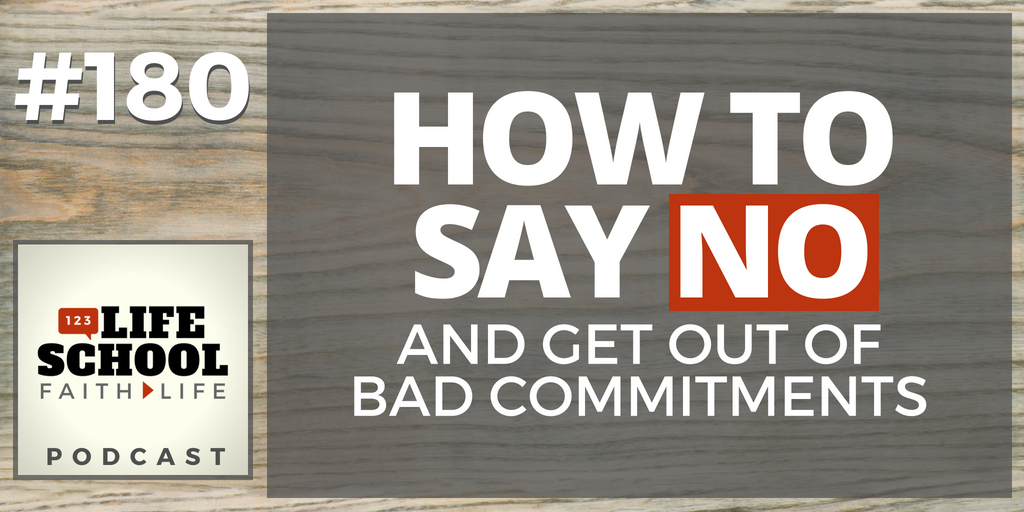 From this episode:
"The more we think about what we are giving up when we say 'yes' to someone, the easier it is to say no. If we have no clear sense of the opportunity cost—in other words, the value of what we are giving up—then it is especially easy to fall into the nonessential trap of telling ourselves we can get it all done. We can't. A graceful 'no' grows out of a clear but unstated calculation of the trade-off."
Each week the Big 3 will give you immediate action steps to get you started.
Download today's BIG 3 right now. Read and think over them again later. You might even want to share them with others…
Thanks for Listening!
Thanks so much for joining us again this week. Have some feedback you'd like to share? Join us on Facebook and take part in the discussion!
If you enjoyed this episode, please share it using the social media buttons you see at the top of this page or right below.
Also, please leave an honest review for The Lifeschool Podcast on iTunes. Ratings and reviews are extremely helpful and greatly appreciated! They do matter in the rankings of the show, and we read each and every one of them.

Links and Resources Mentioned in This Episode:
Free Download of the Big 3 For Episode #180
Caesar Kalinowski's Website and Blog with Loads of Resources
Missio Publishing – More Missional Books and Resources
In light of today's topics, you might find these resources helpful: