118: Why Bi-Vocational Ministry is the Future of Church Leadership
For many Christians, a paid position on their church's staff may seem like the big dream… like they've arrived at the "real ministry" pinnacle. In this episode of Lifeschool we're going to talk about the future of church leadership and who should be having paid positions at the church. And how, maybe, full time vocational ministry is shifting in our time.
For as long as we've been alive in the church, there has been a sort of two-tiered system of Christians: those that who are smart or "called" enough and lucky enough to be on the staff at church and actually get paid to do ministry… and then there was pretty much everyone else. Or what is often referred to as the "laity" or the never ending line of church volunteers.
In This Episode You'll Learn:
How the rise of layers of paid church staff is really a late model invention

How there is a shift happening to what is called bi-vocational ministry (bivo)

7 benefits to bi-vocational ministry and church planting that propel ministry

Why planning for a future career in paid ministry may not work for you

How

to create

self-sustaining income

without having to sacrifice your time with your family or neglect your church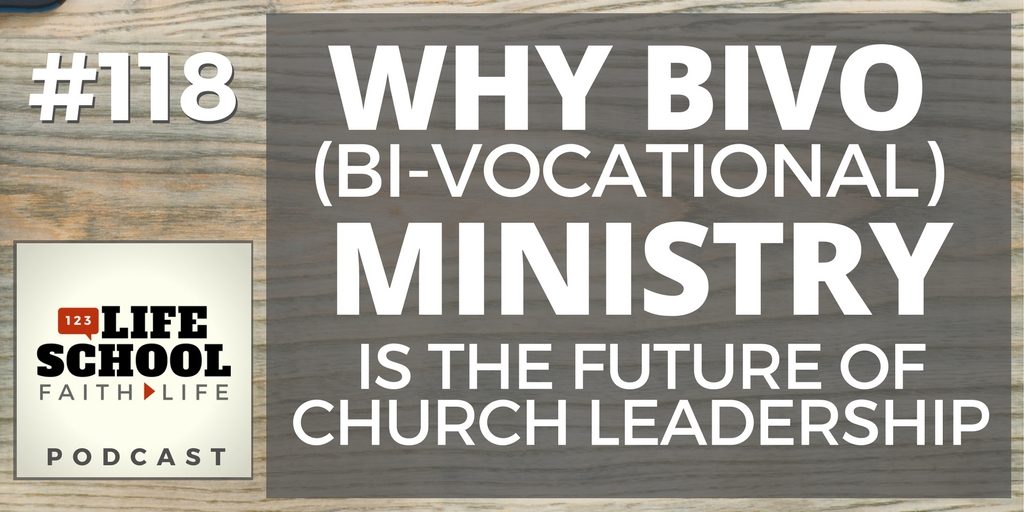 While it is certainly a privilege to have your church community help to meet your needs financially, there is no two-tiered system in the kingdom of God. We are all full-time paid missionaries–God get's to choose how and through which means he routes our paychecks!
Each week the Big 3 will give you immediate action steps to get you started.

Download today's BIG 3 right now. Read and think over them again later. You might even want to share them with others…
Thanks for Listening!
Thanks so much for joining us again this week. Have some feedback you'd like to share? Leave a note in the comment section below!
If you enjoyed this episode, please share it using the social media buttons you see at the top of this page or right below.
Also, please leave an honest review for The Lifeschool Podcast on iTunes. Ratings and reviews are extremely helpful and greatly appreciated! They do matter in the rankings of the show, and we read each and every one of them.
Links and Resources Mentioned in This Episode: 
Free Download of the Big 3 For Episode #118
BIVO Inner Circle Program for generating Self-sustaining Income
Caesar Kalinowski's Website and Blog with Loads of Resources
Missio Publishing – More Missional Books and Resources