How The Gospel Speaks To Guilt and Shame
Guilt or shame… are they the same thing? The last time you made a mistake or really blew it, what were you feeling in your gut: guilt or shame? Do you know the difference? One is healthy, and the other is deadly.
In this episode of the Everyday Disciple Podcast, I'll show you why understanding how these two emotions differ is critical to your emotional health and your relationships.
In This Episode You'll Learn:
Functional definitions of guilt and shame in action.
The reason why we often turn normal guilty feelings to shame.
How the Gospel speaks into (and destroys) shame.
Practical ways to turn conversations away from deadly shame.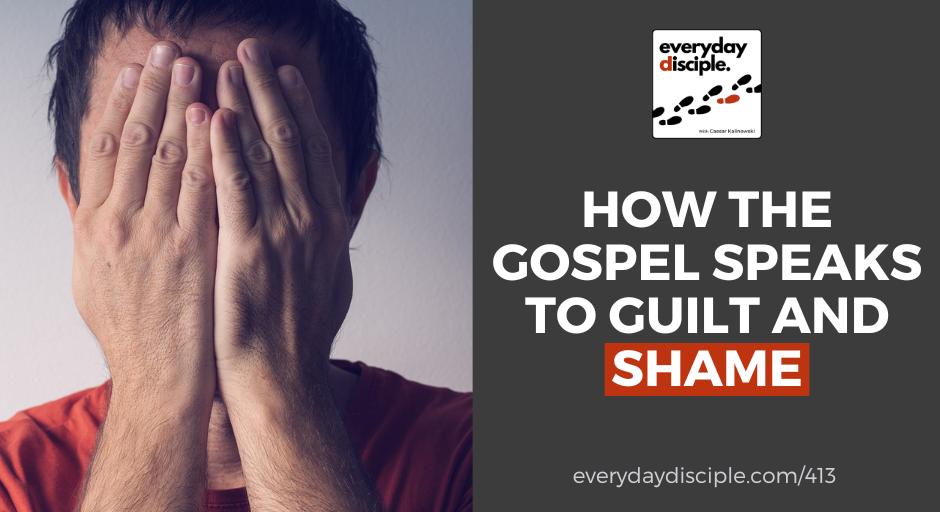 From this episode:
"Can you see how important it is to understand the difference and how intrinsically linked to the Gospel guilt and shame are? This is a BIG problem in our society, churches, and homes today. There is so much shame being put on others and/or received, that it is driving us underground and into all sorts of other deep societal issues. Just turn on the news for a few minutes, and you'll hear it flooding out."
Each week the Big 3 will give you immediate action steps to get you started.

Download today's BIG 3 right now. Read and think over them again later. You might even want to share them with others…
Thanks for Listening!
Thanks so much for joining us again this week. Have some feedback you'd like to share? Join us on Facebook and take part in the discussion!
If you enjoyed this episode, please share it using the social media buttons you see at the top of this page or right below.
Also, please subscribe and leave an honest review for The Everyday Disciple Podcast on Apple Podcasts or wherever you listen. Ratings and reviews are extremely helpful and greatly appreciated! They do matter in the rankings of the show, and we read each and every one of them.
Links and Resources Mentioned in This Episode:
Get the Everyday Disciple Workshop >Here
Brené Brown – Listening to Shame Video
The Cure – One of my favorite books!!
Missio Publishing – More Missional Books and Resources