Connecting With God in Everyday Life
Humans were created to live in a trusting relationship with God where he guides our lives with his perfect love and wisdom. Prayer reconnects us to God in the ways he always intended us to live.
In this episode of the Everyday Disciple Podcast, Caesar talks with author Neil Cole about prayer and finding ways for ordinary people to connect with God in all of life.
In This Episode You'll Learn:
Why prayer is much more than advertised.

The true purpose of prayer… and it may not be what you think!

Simple, yet powerful ways for you to bring about change in your life.

A 4-step process that will transform (and simplify) your prayers.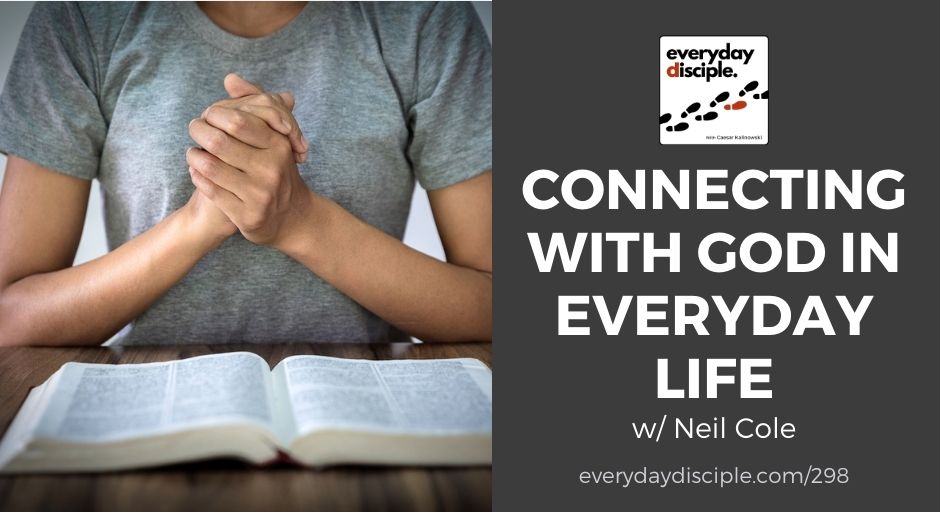 From this episode:
"Don't limit your prayers to a one-way conversation towards God. Talk with him. In all the many ways we get to: adoration/praise, thanksgiving, praying the scriptures, petition, blessing prayers, intercession, meditation, journaling. Any of the ways that you choose to communicate with God are a good thing, and constitutes prayer."
Each week the Big 3 will give you immediate action steps to get you started.

Download today's BIG 3 right now. Read and think over them again later. You might even want to share them with others…
Thanks for Listening!
Thanks so much for joining us again this week. Have some feedback you'd like to share? Join us on Facebook and take part in the discussion!
If you enjoyed this episode, please share it using the social media buttons you see at the top of this page or right below.
Also, please subscribe and leave an honest review for The Everyday Disciple Podcast on Apple Podcasts or wherever you listen. Ratings and reviews are extremely helpful and greatly appreciated! They do matter in the rankings of the show, and we read each and every one of them.
Links and Resources Mentioned in This Episode:
Free Download of the Big 3 For Episode #298
Coaching with Caesar and Tina in discipleship and missional living.