128: Where Was God During Hurricane Harvey?
Last week saw one of the greatest natural disasters to ever hit America. Thousands of families have lost everything they own, and lives were lost. In times like this it is understandable to wonder, or ask, "Where was God during hurricane Harvey?" In this episode of Lifeschool, we discuss this question and what our response as God's family might look and sound like when disaster strikes.
We'll also suggest a way to give financially to help the victims of this horrendous tragedy.
Why didn't God cause the hurricane and heavy rains to turn back out to the ocean and miss all those people? Is he not in control of this world that he created? Or maybe God is punishing someone or some group of people as many in the media suggest.
UPDATE: Since we recorded this special episode a few days ago, sadly, the death toll from hurricane Harvey has risen from what we discussed.
In This Episode You'll Learn:
How the devastation caused by Harvey is affecting Caesar, Heath and their families

Their thoughts and answer to the question of, "Where was God in the hurricane?"

Does God simple react to disaster and the forces of nature or is he truly sovereign?

How we can speak to others about this tragedy when they ask similar questions.

A way to give financially to help the men, women and children ravaged by the storm.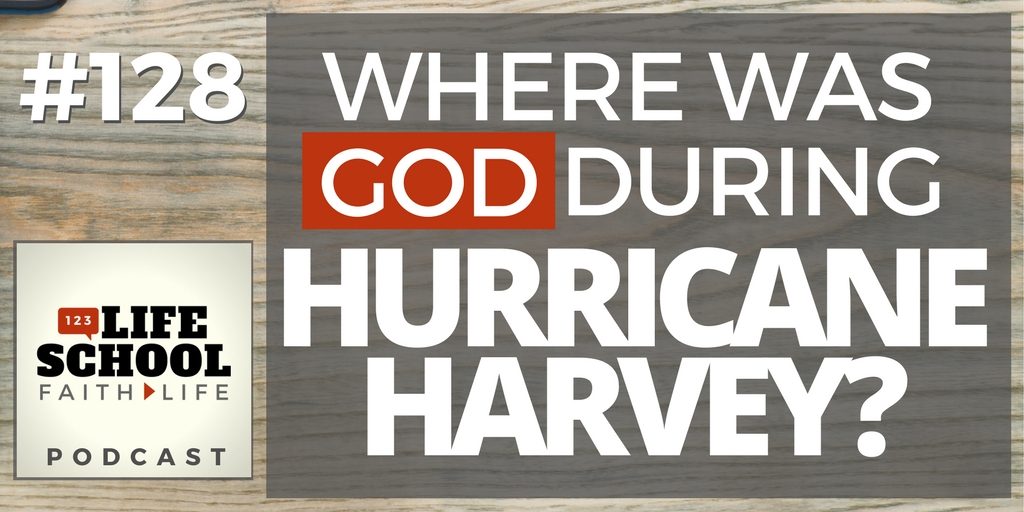 When we stand face-to-face with God, some day, we will get a fuller answer and understanding to his ways and ultimate purposes in this world. Today we see through a mirror dimly and pray for wisdom, strength and the desire to truly embrace those in need.
Right now we have a great opportunity to show God's great love and generosity in light of those in great need.
Each week the Big 3 will give you immediate action steps to get you started.
Download today's BIG 3 right now. Read and think over them again later. You might even want to share them with others…
Thanks for Listening!
Thanks so much for joining us again this week. Have some feedback you'd like to share? Leave a note in the comment section below!
If you enjoyed this episode, please share it using the social media buttons you see at the top of this page or right below.
Also, please leave an honest review for The Lifeschool Podcast on iTunes. Ratings and reviews are extremely helpful and greatly appreciated! They do matter in the rankings of the show, and we read each and every one of them.

Links and Resources Mentioned in This Episode:
Give to Samaritan's Purse and help the victims of hurricane Harvey today!
Free Download of the Big 3 For Episode #128