170: It's Time to Redefine the Value of Marriage and Singleness
Should all Christians be married? Although we might quickly respond "no," our cultural stories and norms―including those in the church―often communicate "yes!"
This week on the Lifeschool Podcast, we're joined by Kutter Callaway, an author and assistant professor of theology and culture. We talk about this and how culture is redefining marriage and singleness… and what this means for those who follow Jesus.
If you've ever turned on the TV or read a newspaper in the last few years, it's pretty apparent that marriage is being redefined by the culture, and the purpose that the Church places on this institution is also changing. It's time to redefine the value of marriage and singleness.
In This Episode You'll Learn:
What the Bible teaches about the institution of marriage.

Ways to think about biblical marriage and the reasons to get married.

How the legal and cultural definitions of marriage differ from the Bible.

How our narratives have limited our understanding of marriage.

Ways that Christians talk about marriage and singleness that may be a hindrance to many.

How we can craft a new story that transforms the way we look at marriage and affirms the contributions of all to the body of Christ.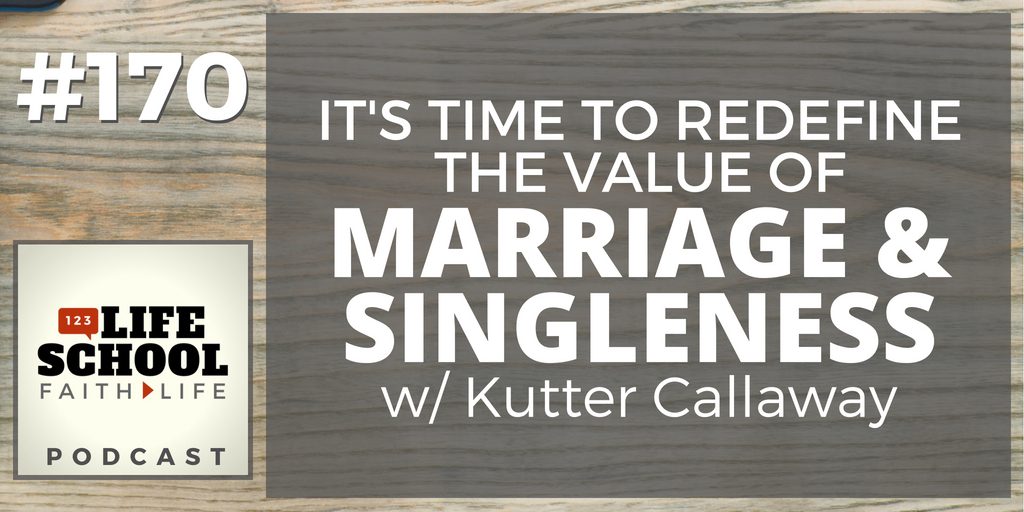 From this episode:
"Think about the language you use to talk about marriage to single people. Is it life giving or limiting? Is it filled with a 'wait for God' focus, or a 'fullness in Christ' focus? If single, what aspect of your identity and overall happiness is based on 'some day' getting married? Have you placed limitations on all that God wants to do in and through your life as you wait for some possible future union?"
Each week the Big 3 will give you immediate action steps to get you started.Download today's BIG 3 right now. Read and think over them again later. You might even want to share them with others…
Thanks for Listening!
Thanks so much for joining us again this week. Have some feedback you'd like to share? Join us on Facebook and take part in the discussion!
If you enjoyed this episode, please share it using the social media buttons you see at the top of this page or right below.
Also, please leave an honest review for The Lifeschool Podcast on iTunes. Ratings and reviews are extremely helpful and greatly appreciated! They do matter in the rankings of the show, and we read each and every one of them.

Links and Resources Mentioned in This Episode:
Free Download of the Big 3 For Episode #170
Kutter Calloway's book: Breaking the Marriage Idol: Reconstructing our Cultural and Spiritual Norms
Missio Publishing – More Missional Books and Resources
Caesar Kalinowski's Website and Blog with Loads of Resources
In light of today's topics, you might find these resources helpful:

.cf-scroll-wrapper { background: #00000075;}