107: How To Talk About Politics Without Being A Jerk
Our world is divided. People of varying opinions and beliefs are attempting to make sense of it all while demonizing those who are different than them. How might being a follower of Jesus change the way we have political conversations? In this episode, Caesar and Heath give you a way to avoid becoming a polarizing jerk.
Have you ever felt like you were innocently sharing your opinion about some topic of the day when things turned ugly? Do you find it hard to be loving when people hold such radically different views than you do? Especially when it comes to politics and government, all while claiming to be Christians? If not, you've probably just avoided today's hot-button issues all together.
In This Episode You'll Learn:
How to be a "peacemaker" when it comes to talking politics
How Jesus addressed the political situation of his day (Roman rule!)
A positive way for Christians to address these topics on social media
Better questions to ask when having online conversations
How important political conversations were for Jesus and his crew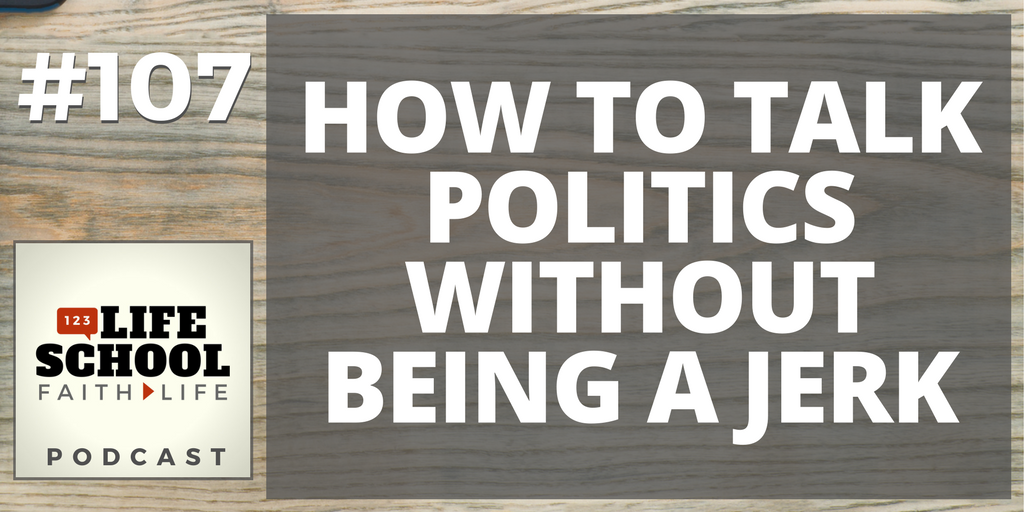 There is no need to avoid talking about politics or other sticky life-issues. You can have the confidence to speak your mind, speak from the heart and speak the truth in love. Hard topics are some of the best opportunities we have to truly get to know others and understand their hopes, fears and desires.
Each week the Big 3 will give you immediate action steps to get you started.

Download today's BIG 3 right now. Read and think over them again later. You might even want to share them with others…
Thanks for Listening!
Thanks so much for joining us again this week. Have some feedback you'd like to share? Leave a note in the comment section below!
If you enjoyed this episode, please share it using the social media buttons you see at the top, right of this page.
Also, please leave an honest review for The Lifeschool Podcast on iTunes. Ratings and reviews are extremely helpful and greatly appreciated! They do matter in the rankings of the show, and we read each and every one of them.
Links and Resources Mentioned in This Episode: 
Free Download of the Big 3 For Episode #107
Caesar Kalinowski's Website and Blog with Loads of Resources
Missio Publishing – Top Missional Books and Resources