102: Why You Should Stop Going to Church
Jesus never told his disciples (us Christians) to go to church. He never commanded us to put on big worship services and lots of programs. Instead, he called us to believe our true identity and be the church.
In This Episode You'll Learn:
Why it's impossible to actually "go to church".
How our American dream world and schedule makes it really hard to live the life Jesus wants for us
How the number of non-Christian friends we have shows us whether we are living like Jesus.
Why life lived in community with others is the only way discipleship really happens.
Click here to discover your true identity and what it means to BE the Church instead of just going to church.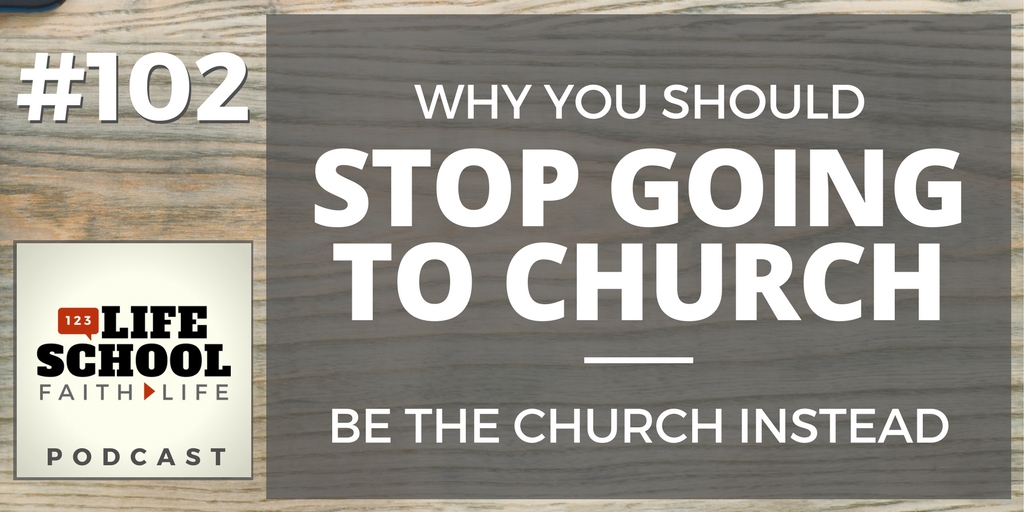 Understanding who God says we are, and what is now true of us, will set you free from performance-based Christianity. The pressure is off! It really is possible to move toward living in a close community of friends (believers and not-yet believers) who are on a spiritual adventure and becoming more like Jesus. This is what true discipleship looks like.
Each week the Big 3 will give you immediate action steps to get you started.
Download today's BIG 3 right now. And we'll also send you a free copy of the book Be The Church too! 
Thanks for Listening!
Thanks so much for joining us again this week. Have some feedback you'd like to share? Leave a note in the comment section below!
If you enjoyed this episode, please share it using the social media buttons you see at the top, right of this page.
Also, please leave an honest review for The Lifeschool Podcast on iTunes. Ratings and reviews are extremely helpful and greatly appreciated! They do matter in the rankings of the show, and we read each and every one of them.
Links and Resources Mentioned in This Episode: 
Free Download of the Big 3 For Episode #102 and Be The Church eBook.
You can also get the Big 3 by texting episode102 to the phone number 33444.
Caesar Kalinowski's Website and Blog with Loads of Resources
Missio Publishing – Top Missional Books and Resources