How Procrastination Kills Discipleship and Mission
Have you ever really "intentioned" to make disciples and focus your life on God's mission and his glory, rather than your plans for your own glory? If that's your hope and intention, but you're not taking action, it's procrastination.
This week on the Lifeschool Podcast, we'll talk about what leads to procrastination in our lives and how procrastination kills discipleship and mission.
If you're feeling that life has just gotten in the way of discipleship… even when it comes to your own family, spouse and kids, the lack of motivation to change that may be coming from several underlying causes.
In This Episode You'll Learn:
The 3 major underlying causes of procrastination.

Examples of what procrastination looks like in discipleship and missional living.

How you may actually be procrastinating in trusting God.

Ways the gospel speaks to this issue and how to get "unstuck."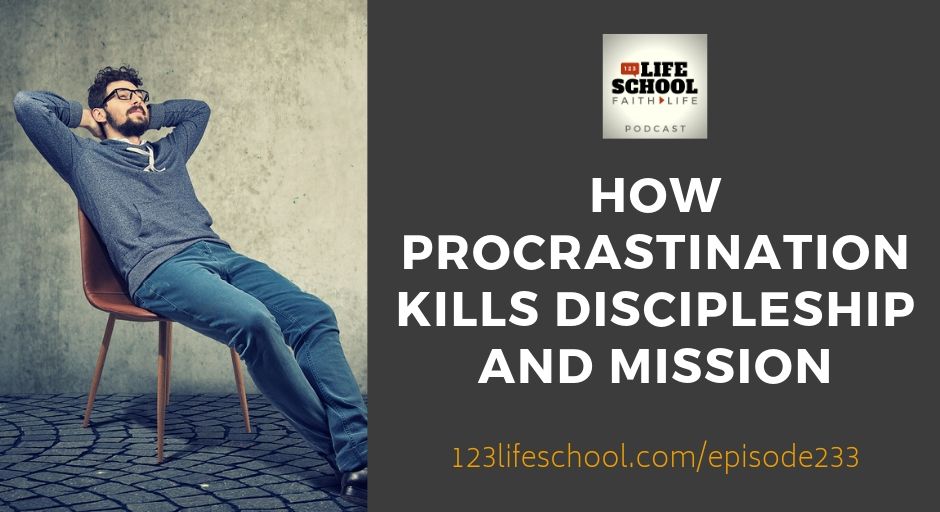 From this episode:
"Be honest with yourself when it comes to understanding if you have ever really intentioned to live a lifestyle of discipleship and mission. It may not be procrastination you're suffering from; it could be that the gospel you understand, and live in light of, is too small and is primarily about your personal happiness."
Each week the Big 3 will give you immediate action steps to get you started.
Download today's BIG 3 right now. Read and think over them again later. You might even want to share them with others…
Thanks for Listening!
Thanks so much for joining us again this week. Have some feedback you'd like to share? Join us on Facebook and take part in the discussion!
If you enjoyed this episode, please share it using the social media buttons you see at the top of this page or right below.
Also, please leave an honest review for The Lifeschool Podcast on iTunes. Ratings and reviews are extremely helpful and greatly appreciated! They do matter in the rankings of the show, and we read each and every one of them.

Links and Resources Mentioned in This Episode:
Free Download of the Big 3 For Episode #233
Caesar Kalinowski's Website and Blog with Loads of Resources
Missio Publishing – More Missional Books and Resources
In light of today's topics, you might find these posts and videos helpful: