The 7 Worst Evangelism Mistakes Today
Evangelism has almost become a dirty word in our culture… And it's not all that different in some church circles. We're either all "gung-ho" about it and finding that people aren't very interested, or we've given up really trying long ago.
This week on the Lifeschool Podcast, we'll help define what true biblical evangelism really is, and the 7 worst evangelism mistakes we see today.
Even when we are certain of our faith and what the Bible teaches, our posture and how we discuss these things is a HUGE proclamation to others about who God is and the heart of our Father. God is never pushy–he's patient. He is kind, slow to anger, gentle, generous, loving and available.
In This Episode You'll Learn:
What "evangelism" is and what the Bible actually teaches about it.

Are all Christians called to be "evangelists"?

Why lots of Christians are looking for ways to "get out of" evangelizing others.

The 7 worst evangelism mistakes today…and a better way of doing it.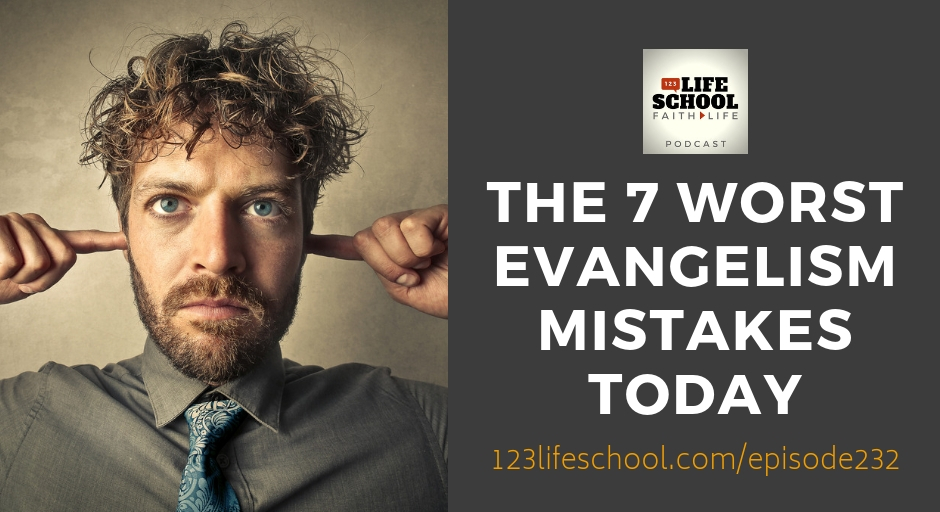 From this episode:
"Believe it or not, most people are very open to having spiritual conversations. But it must be in the right context, at the right time, and we must have the right heart posture in order for it to truly be a conversation that others want to participate in… and maybe revisit over time. Asking more questions and listening well–especially at the beginning of a relationship–is a lot more important than trying to "win" the conversation on the spot."
Each week the Big 3 will give you immediate action steps to get you started.
Download today's BIG 3 right now. Read and think over them again later. You might even want to share them with others…
Thanks for Listening!
Thanks so much for joining us again this week. Have some feedback you'd like to share? Join us on Facebook and take part in the discussion!
If you enjoyed this episode, please share it using the social media buttons you see at the top of this page or right below.
Also, please leave an honest review for The Lifeschool Podcast on iTunes. Ratings and reviews are extremely helpful and greatly appreciated! They do matter in the rankings of the show, and we read each and every one of them.

Links and Resources Mentioned in This Episode:
Free Download of the Big 3 For Episode #232
Caesar Kalinowski's Website and Blog with Loads of Resources
Missio Publishing – More Missional Books and Resources
In light of today's topics, you might find these posts and videos helpful:
How to Share Your Faith in a Non-creepy Way