7 Secrets to Lifelong Marriage Unity
Almost no one was raised in a perfect home with perfect parents who modeled a perfect marriage. It takes intentionality and a lifelong commitment to learn, adapt, and bear with one another… if you want to stay married!
This week on the Lifeschool Podcast, Caesar and his wife, Tina, share 7 "secrets" that have helped them stay on the same page and maintain unity throughout 36 years of marriage. You'll want to take notes, for sure!
All marriages are unique but require many of the same elements to continue growing and sustain unity, romance and a sense of hope for the future.
In This Episode You'll Learn:
Why our marriage is the greatest picture of the gospel others see (or don't).
The truth about what date nights can and cannot do for your marriage.
The reason why vacation without the kids is crucial!
7 secrets to lifelong marriage unity.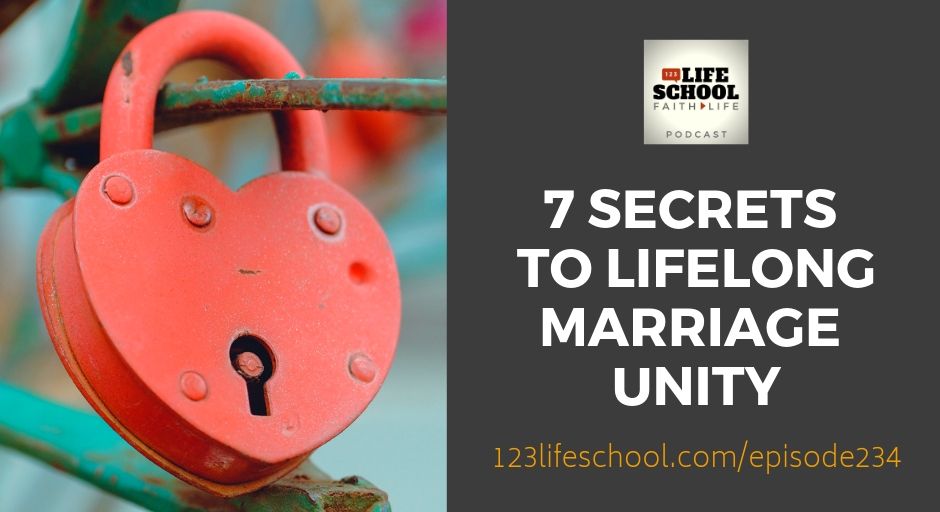 From this episode:
"Don't hide your marriage imperfections. Find a community of trusted believers that are on your team and are mature enough they'll speak the truth in love to you when needed. Seek wise counseling when you are stuck or at an impasse. Don't assume if you sweep issues and patterns under the rug long enough they'll go away. Bring them into the light!"
Each week the Big 3 will give you immediate action steps to get you started.
Download today's BIG 3 right now. Read and think over them again later. You might even want to share them with others…
Thanks for Listening!
Thanks so much for joining us again this week. Have some feedback you'd like to share? Join us on Facebook and take part in the discussion!
If you enjoyed this episode, please share it using the social media buttons you see at the top of this page or right below.
Also, please leave an honest review for The Lifeschool Podcast on iTunes. Ratings and reviews are extremely helpful and greatly appreciated! They do matter in the rankings of the show, and we read each and every one of them.
Links and Resources Mentioned in This Episode:
Free Download of the Big 3 For Episode #234
Caesar Kalinowski's Website and Blog with Loads of Resources
Missio Publishing – More Missional Books and Resources
In light of today's topics, you might find these posts and videos helpful:
5 Steps To An Awesome Date Night With Your Spouse