181: How To: Missional Community in Any Context
"Missional community life probably works great where you live, but you don't understand my context. People are different here…" I've heard this a zillion times.
This week on the Lifeschool Podcast, we discuss whether or not it's actually possible to start and sustain a missional community in any context: urban, suburban, rural… the moon!
Jesus commanded us to go and make disciples, teaching and modeling his life to people, in every context… in every nation. He only and always made disciples in community, living his life closely with others. I think we oughta trust Jesus on this one!
In This Episode You'll Learn:
Why Jesus

always

made disciples in community.

Did Jesus start the first missional community?

The surprising similarities to the challenges people face in every context.

The close correlation between how healthy families function and missional community life.

Tips for figuring out the DNA of your particular community, in your context.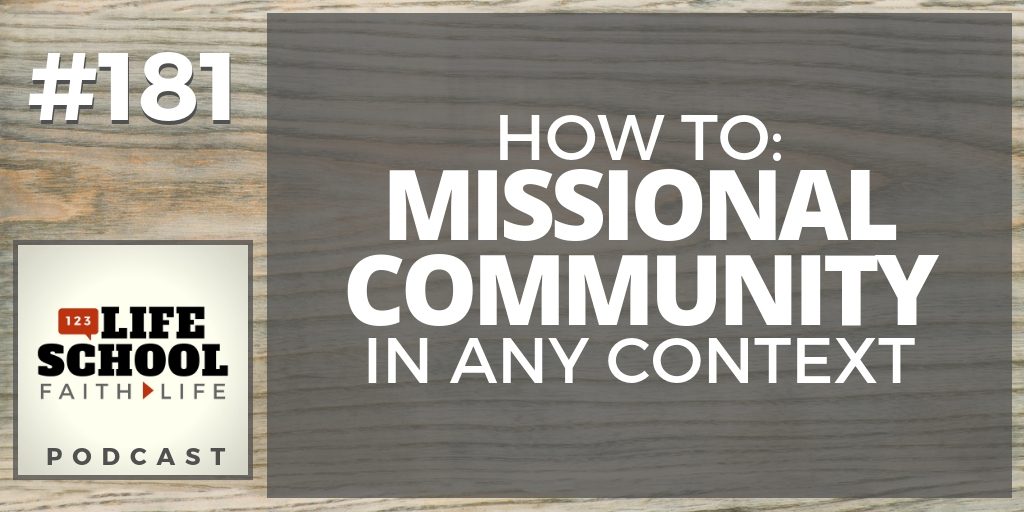 From this episode:
"One thing that is universal about a missional community in any context, is that this sort of lifestyle is going to be messy. It is not a weekly Bible study or an hour-long, one-on-one meeting. You'll need to give your whole life to making disciples the way Jesus did!"
Each week the Big 3 will give you immediate action steps to get you started.
Download today's BIG 3 right now. Read and think over them again later. You might even want to share them with others…
Thanks for Listening!
Thanks so much for joining us again this week. Have some feedback you'd like to share? Join us on Facebook and take part in the discussion!
If you enjoyed this episode, please share it using the social media buttons you see at the top of this page or right below.
Also, please leave an honest review for The Lifeschool Podcast on iTunes. Ratings and reviews are extremely helpful and greatly appreciated! They do matter in the rankings of the show, and we read each and every one of them.

Links and Resources Mentioned in This Episode:
Free Download of the Big 3 For Episode #181
Coaching that Caesar is offering.
If you are interested in learning more about being coached and mentored by Caesar toward life in a missional community, and learning how to disciple others, click here now.
In light of today's topics, you might find this resource helpful: