157: Are You Treating People Like Guests or Like Family?
Someone wearing a name badge smiles, opens the door, and greets you. You're shown to a seat and given some information. And you wonder, "Why is my sister acting this way at Dad's house?"
That may be how people act, but in this episode of the Lifeschool Podcast, we ask the question: do the people coming to your church each Sunday, or the folks coming to your home, feel more like guests or like family?
Guests never do any work or preparation; family members always pitch in. We try and impress guests with our hospitality; family members expect to be "part of the flow" and help themselves to whatever they need. Are you treating people like guests or like family?
In This Episode You'll Learn:
The difference between treating people like guests or like family.

Why treating everyone like family in your home is a picture of the gospel.

What people really need… and it's NOT your perfectly clean house.

How your Sunday church services can help people feel like family rather than visitors or guests.

How our language connected to all of this reveals our true heart and intentions.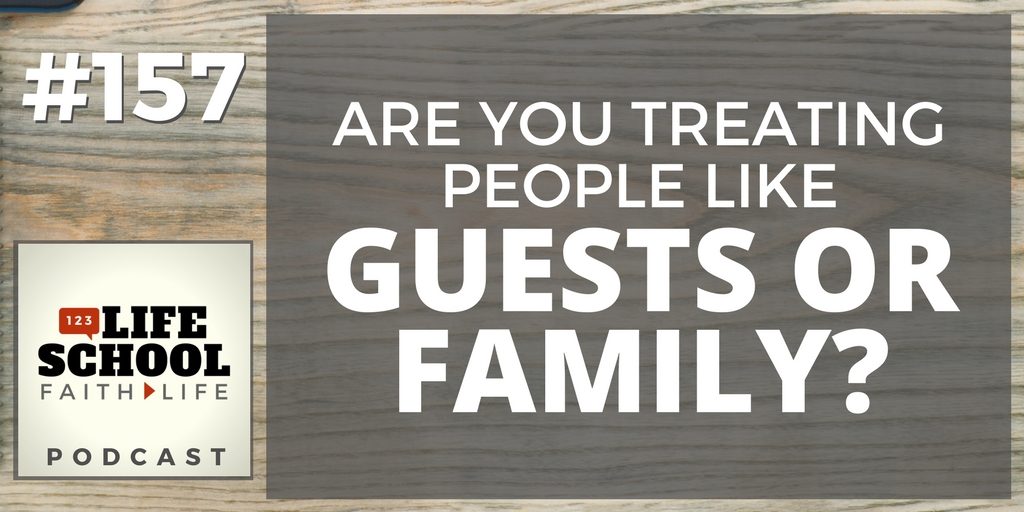 Helping others feel like part of a family, rather than guests to a program, is the key to really experience the gospel in action. Whether at home or at a church service, it is important to remember: these people are your brothers and sisters. Do they feel like they are at home and are needed?
Each week the Big 3 will give you immediate action steps to get you started.
Download today's BIG 3 right now. Read and think over them again later. You might even want to share them with others…
Thanks for Listening!
Thanks so much for joining us again this week. Have some feedback you'd like to share? Join us on Facebook and take part in the discussion!
If you enjoyed this episode, please share it using the social media buttons you see at the top of this page or right below.
Also, please leave an honest review for The Lifeschool Podcast on iTunes. Ratings and reviews are extremely helpful and greatly appreciated! They do matter in the rankings of the show, and we read each and every one of them.

Links and Resources Mentioned in This Episode:
Free Download of the Big 3 For Episode #157
Caesar's book: Transformed: A New Way of Being Christian
Missio Publishing – More Missional Books and Resources
Caesar Kalinowski's Website and Blog with Loads of Resources