Why Discipleship Is Like Reparenting People
So many people have never been taught basic life skills, and certainly not how to view all of life through the lens of the Gospel. Discipleship must seed the good news of the Kingdom into every area of life–not just a bunch of teaching on the Bible and theology.
This week on the Lifeschool Podcast, we talk about why discipleship is like reparenting people, showing them how to live in God's family in light of what our Father now says is true of them. In so many ways it mirrors the same steps and patience required to raise kids!
I am increasingly struck by how many of the things that my wife and I did with our own kids as they grew up are the same things that we find ourselves replicating with others now in the missional community.
In This Episode You'll Learn:
Why discipleship is deeply connected with a form of reparenting people.
The most crucial areas of a disciple's life that may need reparenting.
Why most traditional forms of discipleship don't address enough of real life.
How God calls and empowers us to be 'spiritual parents' to others.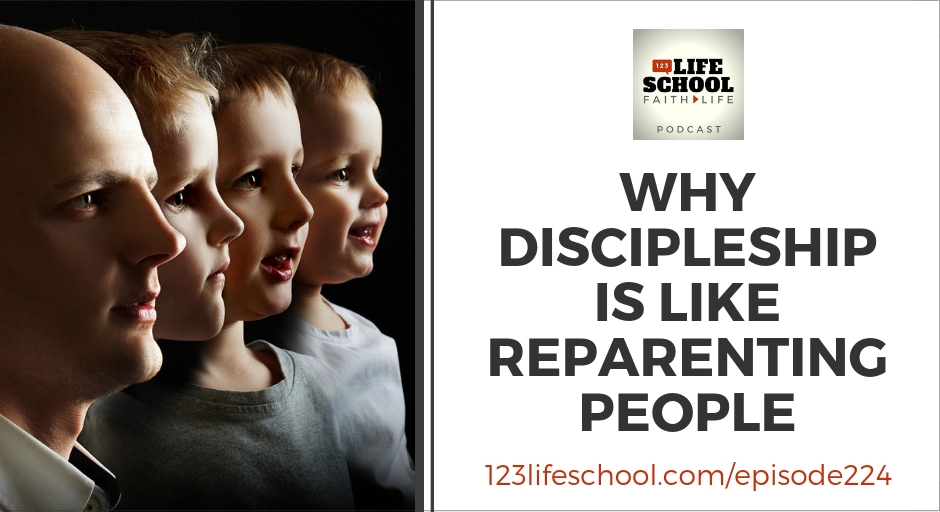 From this episode:
"Teaching, modeling and sharing the love of God and his grace with others is our highest calling! In Christ, we have been given a new identity, we share in his authority here on Earth, and we have inherited great privilege as sons and daughters of the King. Walking in light of all of this and teaching younger siblings (in both age or maturity) how the gospel speaks into and transforms all of life is a privilege and part of Jesus' great co-mission to us all."
Each week the Big 3 will give you immediate action steps to get you started.
Download today's BIG 3 right now. Read and think over them again later. You might even want to share them with others…
Thanks for Listening!
Thanks so much for joining us again this week. Have some feedback you'd like to share? Join us on Facebook and take part in the discussion!
If you enjoyed this episode, please share it using the social media buttons you see at the top of this page or right below.
Also, please leave an honest review for The Lifeschool Podcast on iTunes. Ratings and reviews are extremely helpful and greatly appreciated! They do matter in the rankings of the show, and we read each and every one of them.
Links and Resources Mentioned in This Episode:
Free Download of the Big 3 For Episode #224
In light of today's topic, you might find this helpful:
The Best Parenting Advice I Ever Got
Caesar Kalinowski's Website and Blog with Loads of Resources
Missio Publishing – More Missional Books and Resources