Tips for Hosting Missional Summer Meals
Missional community life includes a lot of eating together. Your meals should be a reflection of your life as a family. When we invite people to experience dinner with the Family—God's family—loving them well is far more important than what you serve or how perfect it all looks.
This week on the Lifeschool Podcast, we talk with Caesar's wife Tina, a professional chef and hospitality expert. She gives us her best tips for hosting missional summer meals that are easy to do and won't leave you frazzled.
Everyone has their 'go-to' favorites—dinners that you can pull off—even in your busiest and most stressed times. Share the meals your family likes. Family favorites will most likely also be enjoyed by friends, as are the stories connected to those meals and recipes.
In This Episode You'll Learn:
Why it's important to treat people like family, not like guests.
Meals that you can do easily and quickly.
Why theming your meals and parties is fun and super inviting for others
Some of Tina's favorite and proven meals, recipes and party themes.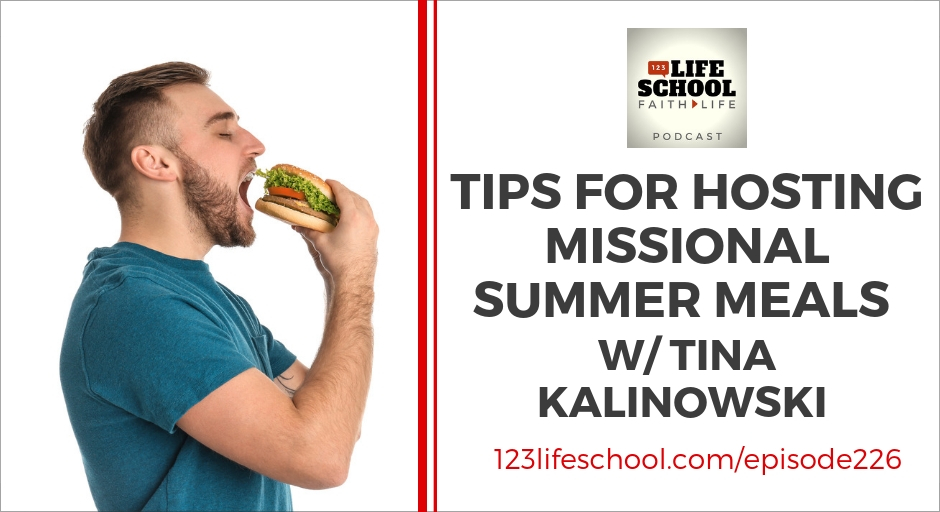 From this episode:
"Keep it simple and keep your pantry stocked with the things you can do easily. Then, make lists, let people help and don't worry about everything being perfect. No one is perfect and you will help people feel comfortable much more quickly if you are willing to be imperfect… with grace!"
Each week the Big 3 will give you immediate action steps to get you started.
Download today's BIG 3 right now. Read and think over them again later. You might even want to share them with others…
Thanks for Listening!
Thanks so much for joining us again this week. Have some feedback you'd like to share? Join us on Facebook and take part in the discussion!
If you enjoyed this episode, please share it using the social media buttons you see at the top of this page or right below.
Also, please leave an honest review for The Lifeschool Podcast on iTunes. Ratings and reviews are extremely helpful and greatly appreciated! They do matter in the rankings of the show, and we read each and every one of them.
Links and Resources Mentioned in This Episode:
Free Download of the Big 3 For Episode #226
Register NOW for Cigars & Theology LIVE with Caesar and Heath
In light of today's topic, you might find this helpful:
Recipe for a Team K Favorite: Salami Eggs
Missio Publishing – More Missional Books and Resources