How to Pray the Gospel for All of Life
Prayer was always meant to be a conversation with our heavenly Father, our Daddy. If your prayers are cold, formal, self-focused or rare, then seeing prayer as a time you get to talk with Dad will draw you to the source of all life, grace, and love.
This week on the Lifeschool Podcast, we'll teach you how Jesus' model for prayer actually leads us to pray the Good News of the gospel over all of life. Prayer is all about experiencing the gospel in relationship with our Father!
Jesus said it pretty plainly, "I am the way, and the truth, and the life. No one comes to the Father except through me" (John 14:6). Through us having a relationship. And when he taught his disciples how to pray, he led them in relationship to the Father.
In This Episode You'll Learn:
Why Jesus always saw prayer with our Father as a relational practice.
The 6 movements or "petitions" of the Lord's Prayer.
Specific (HUGE) gospel connections to each of these 6 movements.
How to pray the gospel for all of life and in any situation.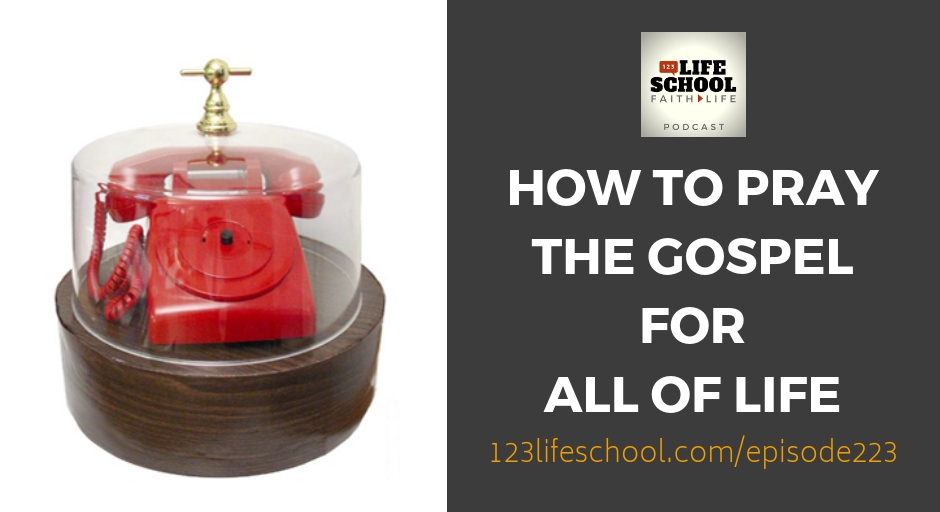 From this episode:
"Praying through Jesus' pattern of prayer covers every area of life! Every fear, every need, every temptation, and every attack. Take a few minutes now to pray through the 6 movements of Jesus' prayer pattern. At each step, personalize what you are facing, needing, asking or hoping for in that "category" of the prayer. Our heavenly Dad wants to hear it all, and waits to see you walk in trust and freedom!"
Each week the Big 3 will give you immediate action steps to get you started.
Download today's BIG 3 right now. Read and think over them again later. You might even want to share them with others…
Thanks for Listening!
Thanks so much for joining us again this week. Have some feedback you'd like to share? Join us on Facebook and take part in the discussion!
If you enjoyed this episode, please share it using the social media buttons you see at the top of this page or right below.
Also, please leave an honest review for The Lifeschool Podcast on iTunes. Ratings and reviews are extremely helpful and greatly appreciated! They do matter in the rankings of the show, and we read each and every one of them.
Links and Resources Mentioned in This Episode:
Free Download of the Big 3 For Episode #223
In light of today's topic, you might find this helpful:
Caesar Kalinowski's Website and Blog with Loads of Resources
Missio Publishing – More Missional Books and Resources