153: Family Discipleship and Mission Made Simple (Part 2)
I grew up going to church Sunday after Sunday. Discipleship, if and when it happened, was a series of classes or a 9-week curriculum that we went through. The problem with that was… it didn't really work.
In this episode of the Lifeschool Podcast, we'll share Part 2 of seven simple yet important steps to living a lifestyle of discipleship where the gospel speaks good news into and shapes every area of life. Discipleship was always meant to happen with others in community.
What's keeping you and your people from moving beyond a week-to-week spirituality into a lifestyle of discipleship and mission with family, friends, and other amazing folks God has brought into your life? Let's get started.
In This Episode You'll Learn:
A recap of the first 3 "moves" toward living as a family on mission.

How to i

dentify which new friends are "leaning in" to relationship and a possible faith journey with you.

How to begin to have simple, daily conversations with the Holy Spirit connected to your discipleship and leading others to faith.

Why predictable patterns in your life are key to building relationships on mission.

The final four of seven proven steps to make family discipleship and mission simple.

How to get help to get started on all of this right away.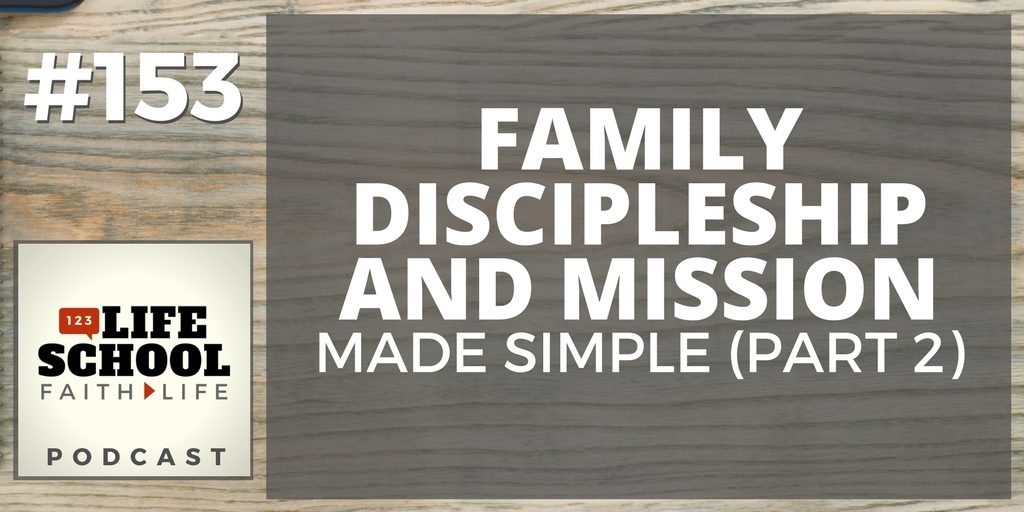 Discipleship is a lifestyle—not a series of classes and then you're finished. These 7 "moves" and rhythms will work for you too and you'll have a plan to move forward instead of creating a patchwork quilt type of discipleship and group leader training process.
Each week the Big 3 will give you immediate action steps to get you started.
Download today's BIG 3 right now. Read and think about them again later. You might even want to share them with others…
Thanks for Listening!
Thanks so much for joining us again this week. Have some feedback you'd like to share? Join us on Facebook and take part in the discussion!
If you enjoyed this episode, please share it using the social media buttons you see at the top of this page or right below.
Also, please leave an honest review for The Lifeschool Podcast on iTunes. Ratings and reviews are extremely helpful and greatly appreciated! They do matter in the rankings of the show, and we read each and every one of them.

Links and Resources Mentioned in This Episode:
Get on the phone with Caesar to learn more about experiencing the 7 Moves to Missional online course with your church today.
Free Download of the Big 3 For Episode #153