Life In Community On Mission: The Glorious Mess
There is no such thing as a typical week in the rhythms of a missional community. Healthy communities follow pretty surprisingly simple patterns. And the schedules of the families are not crazy packed and insanely busy.
In this episode of the Everyday Disciple Podcast, I'll share a running narrative from the daily journals of a married father in a missional community. You'll get to see all of the "organized" and "organic" interactions that come up in their calendar as a family on mission for one week. Oh, it's messy… but it's a glorious mess!
In This Episode You'll Learn:
How a married couple with three kids lives on mission together.
The gospel-intentionality that is baked into their normal life.
How living this way in community adds very little to their normal schedules.
A great picture of discipleship in action in everyday life.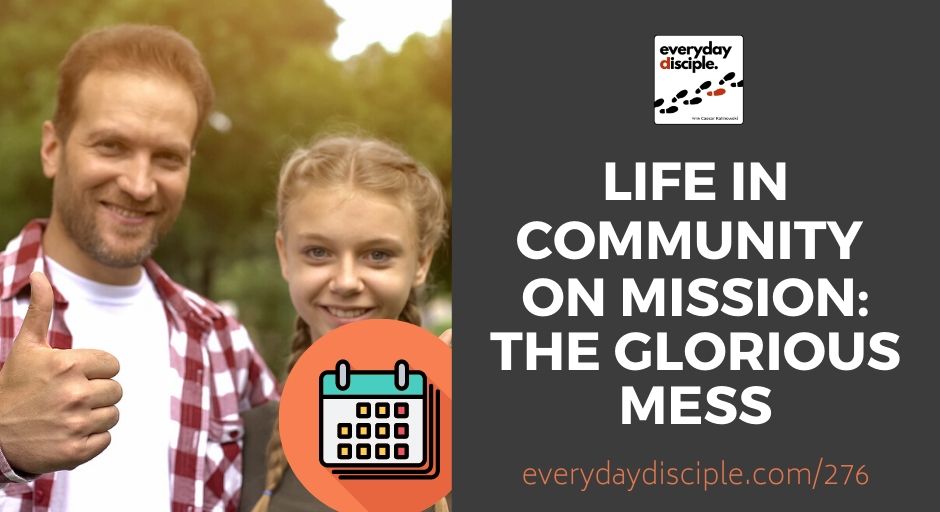 From this episode:
"Did you notice that there are really only two or three interactions with the Missional Community during this week that fall outside their normal daily and weekly rhythms? I also hope you see that one of the takeaways from this family's schedule is that everything is moving outward with regard to its activities, responsibilities, and relationships. Growth is happening as the family includes others, more and more frequently, into the mix. Treating everyone like family."
Each week the Big 3 will give you immediate action steps to get you started.

Download today's BIG 3 right now. Read and think over them again later. You might even want to share them with others…
Thanks for Listening!
Thanks so much for joining us again this week. Have some feedback you'd like to share? Join us on Facebook and take part in the discussion!
If you enjoyed this episode, please share it using the social media buttons you see at the top of this page or right below.
Also, please subscribe and leave an honest review for The Everyday Disciple Podcast on Apple Podcasts or wherever you listen. Ratings and reviews are extremely helpful and greatly appreciated! They do matter in the rankings of the show, and we read each and every one of them.
Links and Resources Mentioned in This Episode:
Free Download of the Big 3 For Episode #276
Watch this short summary of Caesar teaching the 6 Gospel Rhythms
Download this FREE 6 Rhythms Guide full of ideas to get you started. 
Everyday Disciple: FREE Discipleship Resources and Training.
Missio Publishing – More Missional Books and Resources