162: These 4 Companies Want to Fulfill Your Most Basic Needs
Can all knowledge, sex, affection, and every other need be found just a click away? For a few dollars? Are we letting online companies replace and fulfill the most basic needs God has built into our lives?
This week on the Lifeschool Podcast, we talk about 4 companies that we all know, love, and use that are replacing God and changing our lives… This is pretty amazing.
New York University academic, marketing guru, and entrepreneur Scott Galloway recently gave a talk about this, and he laid out some pretty amazing theories that really stopped me in my tracks. I have to admit… I've been sucked in too.
In This Episode You'll Learn:
The 4 HUGE companies that are part of most of our daily lives in a powerful way.

How our basic needs, created to draw us to God, are being replaced by these companies.

Why this is dangerous and leads down a dead end road.

How our natural desire for instant gratification has made us susceptible to this.

Why this is really a problem connected to a false understanding of the Gospel.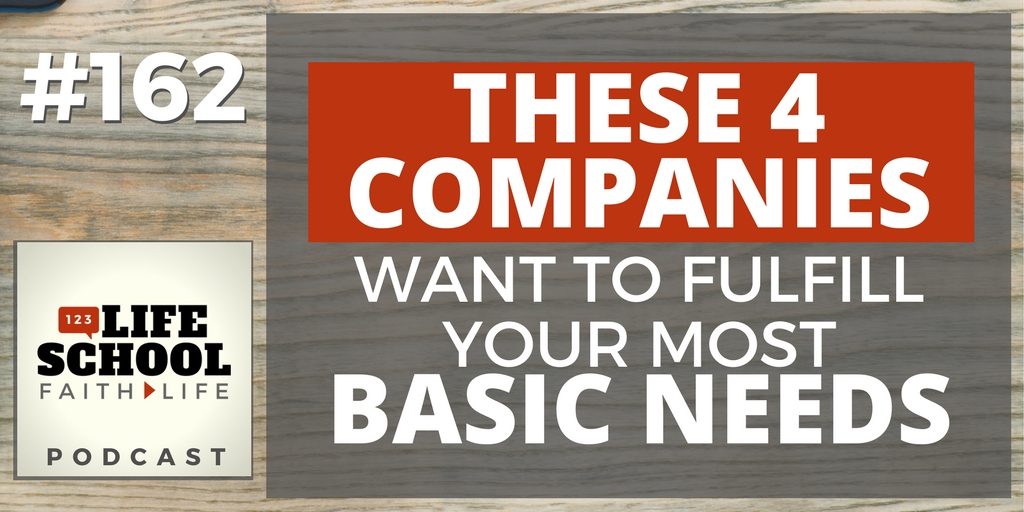 From this episode:
"We've taken God, we've taken love, we've taken consumption, we've taken sex, we disarticulated those four things and reassembled them in the form of the enterprise with shareholder value and have created more economic value across the small number of people than ever before."
Each week the Big 3 will give you immediate action steps to get you started.
Download today's BIG 3 right now. Read and think over them again later. You might even want to share them with others…
Thanks for Listening!
Thanks so much for joining us again this week. Have some feedback you'd like to share? Join us on Facebook and take part in the discussion!
If you enjoyed this episode, please share it using the social media buttons you see at the top of this page or right below.
Also, please leave an honest review for The Lifeschool Podcast on iTunes. Ratings and reviews are extremely helpful and greatly appreciated! They do matter in the rankings of the show, and we read each and every one of them.

Links and Resources Mentioned in This Episode:
Free Download of the Big 3 For Episode #162
Missio Publishing – More Missional Books and Resources
Caesar Kalinowski's Website and Blog with Loads of Resources

.cf-scroll-wrapper { background: #00000075;}