163: Can You Really Love Your Neighbor As You Love Yourself?
There was a time when neighbors knew each other's names… when children and old folks in the neighborhood had more than their families looking out for them. What happened?
This week on the Lifeschool Podcast, we talk with author, Lance Ford, as we ask the question: can you really love your neighbor as much as you love yourself?
We live in an age when it feels like we have very little time for new and trusting relationships–and it's hard to trust people! So we tend to isolate or stick closer to home and keep to ourselves. But people are dying for real relationship, and isolation only breeds further distrust.
Maybe it's time to change the narrative.
In This Episode You'll Learn:
What the Bible

really

says about loving your neighbor.

How God created you for relationship–not isolation.

What we have lost as a society through hiding away and loving ourselves.

Why incarnational presence is the "Jesus Model" for loving your neighbor.

(This is awesome!)

Practical steps to restoring our actual neighborhoods to being communities filled with love and redemption.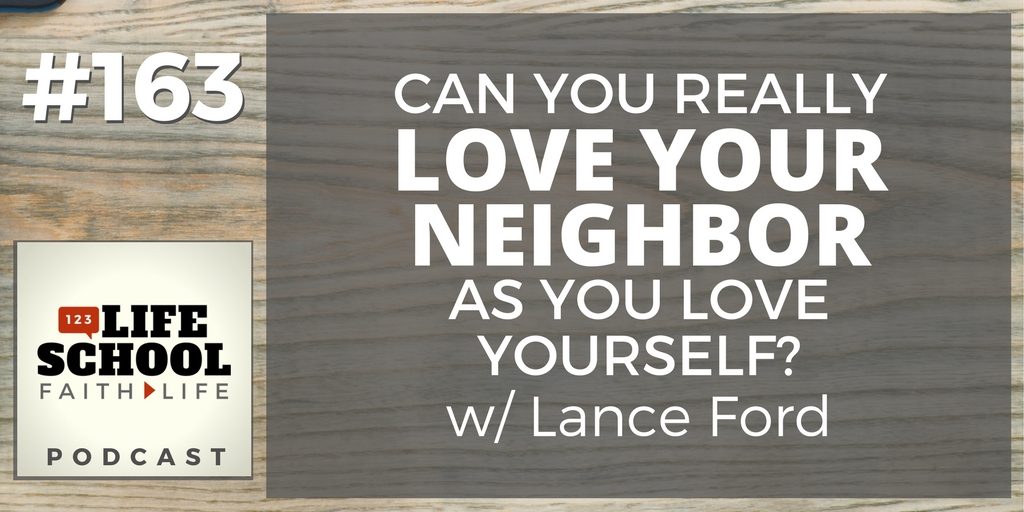 From this episode:
"People are dying for relationship and connection. We can choose to push back against the consumerism and individualism that is so toxic. Let's not let our affluence buy the very walls that keep us apart from real gospel centered relationship."
Each week the Big 3 will give you immediate action steps to get you started.
Download today's BIG 3 right now. Read and think over them again later. You might even want to share them with others…
Thanks for Listening!
Thanks so much for joining us again this week. Have some feedback you'd like to share? Join us on Facebook and take part in the discussion!
If you enjoyed this episode, please share it using the social media buttons you see at the top of this page or right below.
Also, please leave an honest review for The Lifeschool Podcast on iTunes. Ratings and reviews are extremely helpful and greatly appreciated! They do matter in the rankings of the show, and we read each and every one of them.

Links and Resources Mentioned in This Episode:
Free Download of the Big 3 For Episode #163
Lance's book: Next Door As It Is In Heaven
In light of today's topics, you might find these posts and videos helpful:


.cf-scroll-wrapper { background: #00000075;}