194: Climate Change. What to Know, What You Can Do
Rising sea levels… raging storms. Ferocious fires and punishing floods. Is something changing on our planet, or is all of this just… normal?
This week on the Lifeschool Podcast, we revisit a powerful conversation we had with renowned climate scientist, Katharine Hayhoe. Recently, the US federal government issued a new National Climate Assessment, and Katharine is one of the co-authors!
We will also leave you with a TON of resources and next steps for helping to combat climate change so you can begin to make a small (but big) difference in the world!
This is not a political issue for Heath and I (Caesar). We're not advocating for the left or the right in this. We believe that it is less important to try and place blame for this shift in the climate and learn how to unite, rather than divide, over solutions and in a hope to offer help and assistance to those on our shared planet who are most affected by these changes.
In This Episode You'll Learn:
About the new National Climate Assessment that is over 2,000 pages long with hundreds of peer-reviewed publications and citations… and why it is important.

How some of us may be confusing "weather" and "climate" and the important distinction between these two things.

Some hard statistics (and truth) about our climate patterns.

Why Christians are the

perfect

people to care about climate change.

100+ ways you can fight climate change.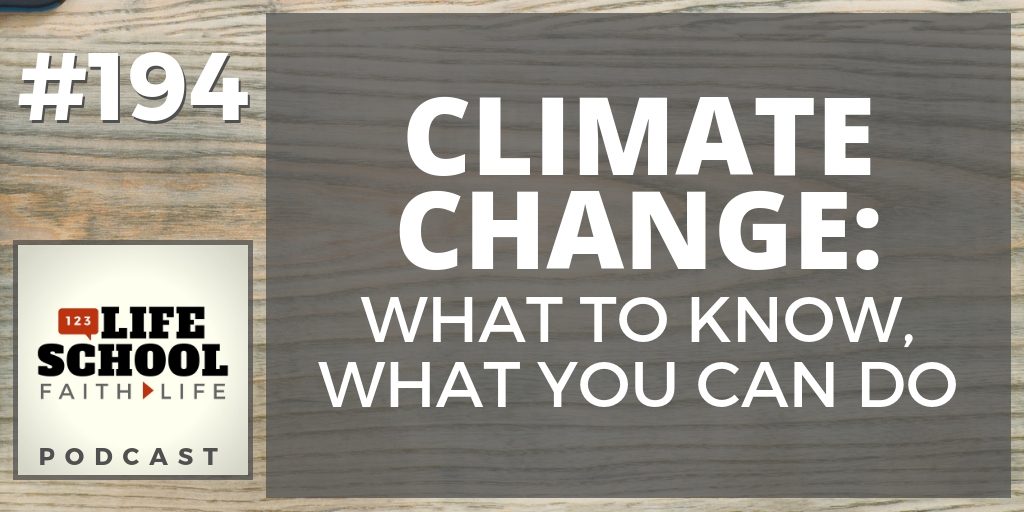 From this episode:
"I want my head to be right on this, basing my understanding on facts, and more importantly, I want my heart to be right and offer a response that glorifies God and shows the world and those in need his true heart."
Each week the Big 3 will give you immediate action steps to get you started.
Download today's BIG 3 right now. Read and think over them again later. You might even want to share them with others…
Thanks for Listening!
Thanks so much for joining us again this week. Have some feedback you'd like to share? Join us on Facebook and take part in the discussion!
If you enjoyed this episode, please share it using the social media buttons you see at the top of this page or right below.
Also, please leave an honest review for The Lifeschool Podcast on iTunes. Ratings and reviews are extremely helpful and greatly appreciated! They do matter in the rankings of the show, and we read each and every one of them.

Links and Resources Mentioned in This Episode:
Free Download of the Big 3 For Episode #194
(includes the links to over 100 ways you can fight climate change and make a difference today!)

Missio Publishing – More Missional Books and Resources
Caesar Kalinowski's Website and Blog with Loads of Resources
In light of today's topics, you might find these posts and videos helpful: