193: 12 Small Ways You Can Improve Your City
As God's kids and together as his family here on Earth, we get to serve others as an expression of our identity in Christ. And sometimes, the smallest acts of service can have the biggest impact!
This week on the Lifeschool Podcast, we'll show you how serving your city in little ways provides a picture and experience of the good news of the gospel. You'll hear about 12 small ways you can improve your city individually or as a group together. This is fun!
Working from a list of 101 ways to improve your city (which we'll give to you), we share twelve of our favorites. These are things that can be done almost anywhere by anyone. All hands on deck!
In This Episode You'll Learn:
Why serving others is a display of what God is like in the world.

How restoration and reconciliation often flow from small acts of service.

12 things we LOVE that you can do to improve your city through serving. (Easy stuff!)

How you, your family, and your community group can get started serving right away.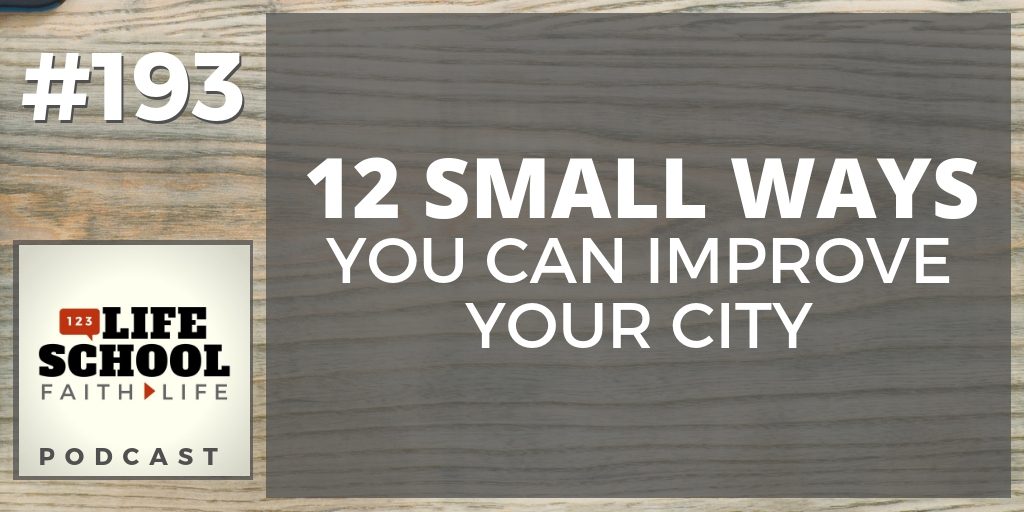 From this episode:
"Sometimes it only takes a few lights to completely transform a city block. A bunch of us did this in our neighborhood in Tacoma… what a difference! Casting light on a forgotten building or dark alley can bring a renewed sense of appreciation and safety within the community."
Each week the Big 3 will give you immediate action steps to get you started.
Download today's BIG 3 right now. Read and think over them again later. You might even want to share them with others…
Thanks for Listening!
Thanks so much for joining us again this week. Have some feedback you'd like to share? Join us on Facebook and take part in the discussion!
If you enjoyed this episode, please share it using the social media buttons you see at the top of this page or right below.
Also, please leave an honest review for The Lifeschool Podcast on iTunes. Ratings and reviews are extremely helpful and greatly appreciated! They do matter in the rankings of the show, and we read each and every one of them.

Links and Resources Mentioned in This Episode:
Free Download of the Big 3 For Episode #193
Missio Publishing – More Missional Books and Resources
Caesar Kalinowski's Website and Blog with Loads of Resources
In light of today's topics, you might find these posts and videos helpful: