141: How to Apologize the Right (and Wrong) Way
In the past few weeks, we've seen a lot of public officials and celebrity types faced with accusations of wrongdoing, misconduct and unethical behavior. We would hope that all of these people would start with a good old-fashioned apology, but many don't.
It is doubtful that you'll ever be faced with such public accusations, but hurts in relationships come up for all of us. In this episode of Lifeschool, we'll show how to apologize the right… and wrong ways.
An apology is not always, or necessarily connected with sin against God or another person…but often it is. An apology might be for something that you did, unintentionally, that ended up hurting another person or costing them something. How do you know the difference?
In This Episode You'll Learn:
When you need to offer an apology.

A biblical basis for apologizing, and what's really behind it.

The

three "core" elements of a good apology

.

4 things

that can torpedo even your most well-intentioned apologies

.

The "big difference" for Christians when we apologize.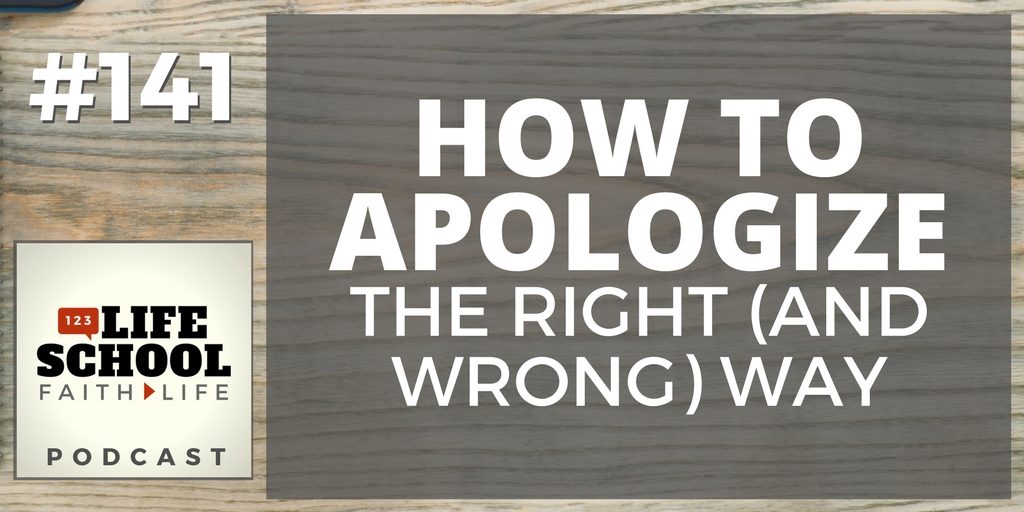 Putting off making an apology, when you know that you are the offending party, is selfish. And it is probably the result of self-love and/or fear of man issues. Ask God to give you the humility to go and make an honest and full apology, trusting him for the results. This episode will encourage you and help you move toward true reconciliation.
Each week the Big 3 will give you immediate action steps to get you started.
Download today's BIG 3 right now. Read and think over them again later. You might even want to share them with others…
Thanks for Listening!
Thanks so much for joining us again this week. Have some feedback you'd like to share? Join us on Facebook and take part in the discussion!
If you enjoyed this episode, please share it using the social media buttons you see at the top of this page or right below.
Also, please leave an honest review for The Lifeschool Podcast on iTunes. Ratings and reviews are extremely helpful and greatly appreciated! They do matter in the rankings of the show, and we read each and every one of them.

Links and Resources Mentioned in This Episode:
Free Download of the Big 3 For Episode #141
Video of UCLA students "apologies": A wrong way and two right ways to apologize.
Missio Publishing – More Missional Books and Resources
Caesar Kalinowski's Website and Blog with Loads of Resources