142: What Voices Are Shaping Your Life the Most?
Are you hearing voices in your head? I'm not suggesting you're crazy, but you may be listening to people—from your past or present—that are shaping your self-image, value, and worldview in not-so-helpful ways. What voices are shaping your life the most?
How do we discern what voice to listen to, which voice to follow? Are we even aware of which and whose voices are most dominant in our lives? There are voices out there telling you who you are, what you should want, who you should be. Who should you trust?
In This Episode You'll Learn:
How to sort out all of the chatter coming your way each day.

How to discern if God is speaking to you.

The importance of other trusted friends "listening" with and for you.

Why the voices you listen to shape your own voice in the world.

How Jesus gave us his perfect filter to apply to all of these voices.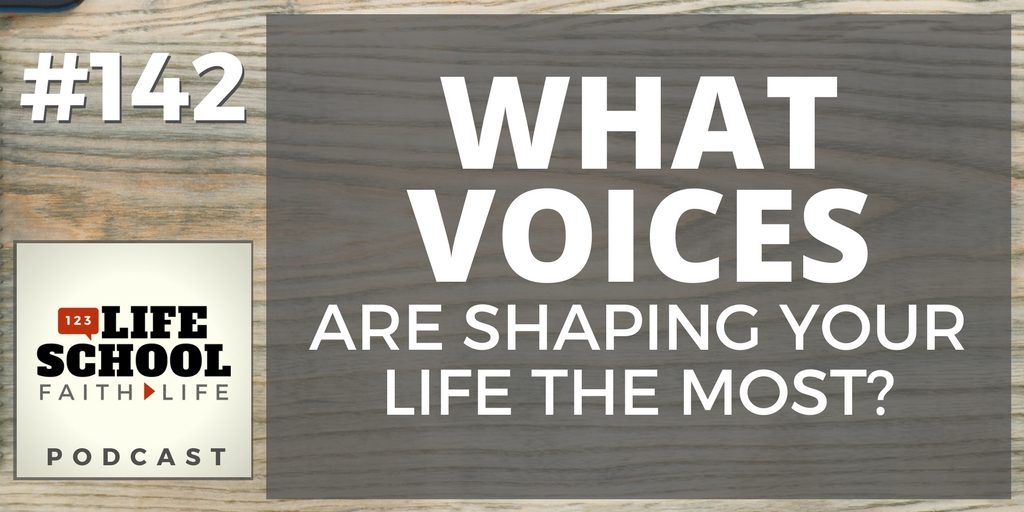 Jesus said, "My sheep listen to my voice; I know them, and they follow me. I give them eternal life, and they will never perish. No one can snatch them away from me…" Whose voice are you listening to?
Each week the Big 3 will give you immediate action steps to get you started.
Download today's BIG 3 right now. Read and think over them again later. You might even want to share them with others…
Thanks for Listening!
Thanks so much for joining us again this week. Have some feedback you'd like to share? Join us on Facebook and take part in the discussion!
If you enjoyed this episode, please share it using the social media buttons you see at the top of this page or right below.
Also, please leave an honest review for The Lifeschool Podcast on iTunes. Ratings and reviews are extremely helpful and greatly appreciated! They do matter in the rankings of the show, and we read each and every one of them.

Links and Resources Mentioned in This Episode:
Free Download of the Big 3 For Episode #142
Missio Publishing – More Missional Books and Resources
Caesar Kalinowski's Website and Blog with Loads of Resources