140: How to Handle Annoying People This Holiday
We all have those people in our lives that we'd rather not be around, but the holidays have a way of forcing us to deal with them–or not. In this episode of Lifeschool, we talk talk about how to handle those family members that you would rather not have to be around at the holidays.
What is it about certain people that they just bug the heck out of us… or everyone? Is there a way to actually handle annoying people this holiday, or is it just best to avoid them altogether?
In This Episode You'll Learn:
10 behaviors that toxic people often display.

7 practical steps for dealing with annoying people this holiday.

What the "thing behind the thing" is with their words and actions.

How to avoid having your holidays ruined this year.

How Christians can use these hard situations to display the gospel.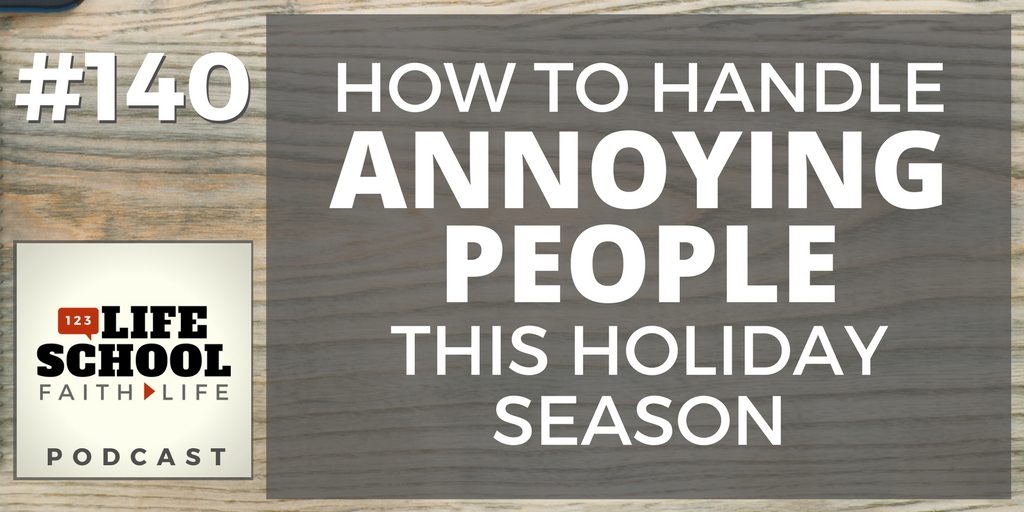 God loves those people that offend you as much as he loves you! Believe it or not, these types of hard situations within our family dynamics are often fertile ground for healing and restoration. This episode of Lifeschool may be one you need to hear–and share–before it's too late!
Each week the Big 3 will give you immediate action steps to get you started.
Download today's BIG 3 right now. Read and think over them again later. You might even want to share them with others…
Thanks for Listening!
Thanks so much for joining us again this week. Have some feedback you'd like to share? Join us on Facebook and take part in the discussion!
If you enjoyed this episode, please share it using the social media buttons you see at the top of this page or right below.
Also, please leave an honest review for The Lifeschool Podcast on iTunes. Ratings and reviews are extremely helpful and greatly appreciated! They do matter in the rankings of the show, and we read each and every one of them.

Links and Resources Mentioned in This Episode:
Free Download of the Big 3 For Episode #140
Missio Publishing – More Missional Books and Resources
Caesar Kalinowski's Website and Blog with Loads of Resources