Invitation and Challenge: Moving Disciples Toward Maturity
Whenever we're investing time and energy into discipling someone or developing them as leaders, there's this strong dynamic that we learn from Jesus where he perfectly calibrated invitation to his life, with a challenge to grow, to participate, to be more like him.
This week on the Lifeschool Podcast, we'll teach you how understanding "Invitation and Challenge" can help you in your leadership, your parenting, and how it moves disciples toward maturity.
This concept of invitation and challenge is one that is surprisingly simple to understand and amazingly powerful when we master it.
In This Episode You'll Learn:
What it looks like to be highly "invitational" with others.
How understanding the concept of "invitation and challenge" will explain past situations in leadership that didn't go so well.
The types of relational environments you may be creating in your church based on I&C.
Why learning to calibrate I&C will forever change your leadership and parenting.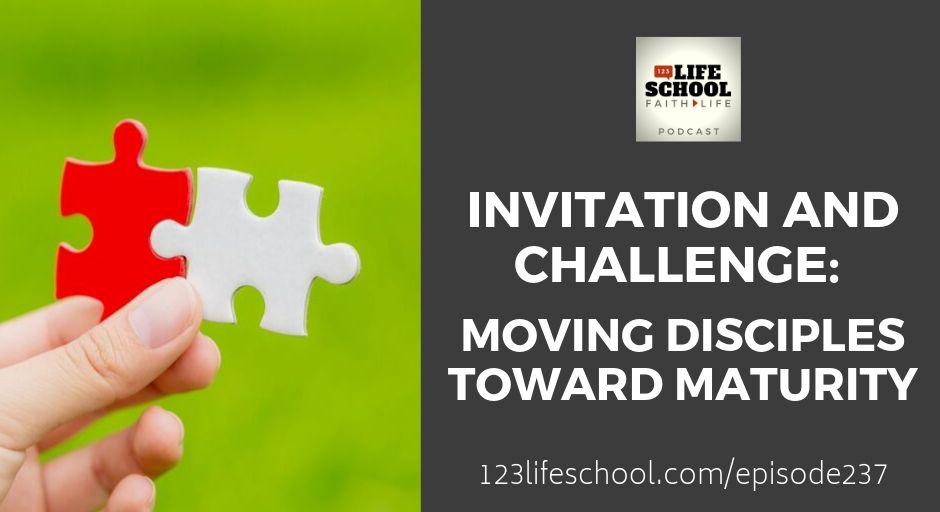 From this episode:
"We can learn to "bank" invitation in people's lives, and we "spend" those deposits as challenges that they can receive. If someone in your life is not stepping up to or accepting the challenge that you have presented them with, it may be that you need to "bank" more invitation, or the challenge is too much for the level of trust you have built up."
Each week the Big 3 will give you immediate action steps to get you started.
Download today's BIG 3 right now. Read and think over them again later. You might even want to share them with others…
Thanks for Listening!
Thanks so much for joining us again this week. Have some feedback you'd like to share? Join us on Facebook and take part in the discussion!
If you enjoyed this episode, please share it using the social media buttons you see at the top of this page or right below.
Also, please leave an honest review for The Lifeschool Podcast on iTunes. Ratings and reviews are extremely helpful and greatly appreciated! They do matter in the rankings of the show, and we read each and every one of them.
Links and Resources Mentioned in This Episode:
Free Download of the Big 3 For Episode #237
Get the Invitation and Challenge Matrix Free Download Here.
Caesar Kalinowski's Website and Blog with Loads of Resources
Missio Publishing – More Missional Books and Resources
In light of today's topics, you might find these posts and videos helpful:
Are You Really a Friend of Sinners?