192: Why Intentional Disciple-Making = Real Church Growth
Much of the Church today seems to be operating with a "functional Great Commission": Go into all the world and make more worship attenders, baptizing them in the name of small groups, and teaching them to volunteer a few times a month.
This week on the Lifeschool Podcast, we talk with author and sought-after consultant, Will Mancini, about why intentional disciple-making = real church growth.
More than we'd like to admit, so much of our default strategy for seeing people come to faith in Jesus begins and ends with pumping people through our priority programs. It's the classic attractional mindset.
In This Episode You'll Learn:
Why the Church has slipped into a functional, versus original, Great Commission mindset.

How your language will reveal what's most important to you as a church.

The 3 types of Christian churches we'll experience in the next 20 years.

Why programs don't attract people; people attract people.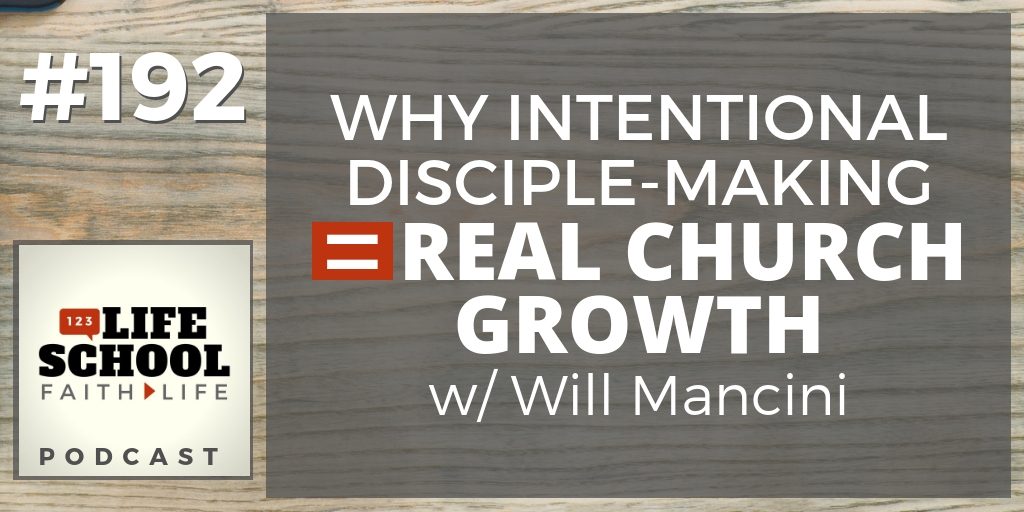 From this episode:
"The dirty little secret among so many pastors is that we are really good at faking disciples rather than making disciples. The quantity and quality of our programs—and our sheer busyness keeping it all going—distract us from the truth."
Each week the Big 3 will give you immediate action steps to get you started.
Download today's BIG 3 right now. Read and think over them again later. You might even want to share them with others…
Thanks for Listening!
Thanks so much for joining us again this week. Have some feedback you'd like to share? Join us on Facebook and take part in the discussion!
If you enjoyed this episode, please share it using the social media buttons you see at the top of this page or right below.
Also, please leave an honest review for The Lifeschool Podcast on iTunes. Ratings and reviews are extremely helpful and greatly appreciated! They do matter in the rankings of the show, and we read each and every one of them.

Links and Resources Mentioned in This Episode:
Free Download of the Big 3 For Episode #192
Missio Publishing – More Missional Books and Resources
Caesar Kalinowski's Website and Blog with Loads of Resources
In light of today's topics, you might find these posts and videos helpful: