174: How to Figure Out Your Personal Superpower
Many of us have a sense of the two or three things we are really good at, either naturally or we've put in the time and investment to learn and develop certain skills or abilities. Do you know how to figure out your personal superpower?
This week on the Lifeschool Podcast, we are going to show you how to figure out your personal superpower and also discover what your "kryptonite" might be.
It's not prideful to know the things you are really good at in life and to develop and share those things with others. All of us have certain things we are good at doing or noticing or perceiving. We also have blind spots and weaknesses in life that, if left unchecked, could take us down or hurt others. Beware of the kryptonite in your life!
In This Episode You'll Learn:
Your strengths in life can be your primary way to display God's glory.

Why it is not prideful to know and exercise the things you are really good at.

Tips and tools for identifying your personal "superpowers".

A process (it's crazy!) for pinpointing character issues and potential kryptonite.

The difference between being

open to feedback vs. actively seeking feedback.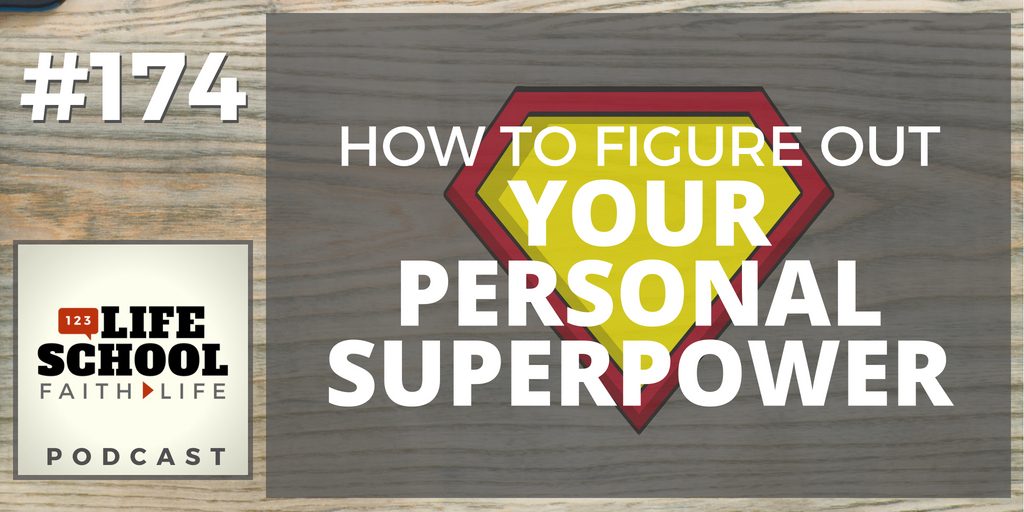 From this episode:
"Start with some honest self-assessment. Pray and ask the Holy Spirit to identify any areas of your life and character that he would have you be more aware of and begin to look for any unbelief (in who God is and what is really true of you) behind these things. Write these down and pray over them for three days."
Each week the Big 3 will give you immediate action steps to get you started.
Download today's BIG 3 right now. Read and think over them again later. You might even want to share them with others…
Thanks for Listening!
Thanks so much for joining us again this week. Have some feedback you'd like to share? Join us on Facebook and take part in the discussion!
If you enjoyed this episode, please share it using the social media buttons you see at the top of this page or right below.
Also, please leave an honest review for The Lifeschool Podcast on iTunes. Ratings and reviews are extremely helpful and greatly appreciated! They do matter in the rankings of the show, and we read each and every one of them.

Links and Resources Mentioned in This Episode:
Free Download of the Big 3 For Episode #174
Caesar Kalinowski's Website and Blog with Loads of Resources
Missio Publishing – More Missional Books and Resources
In light of today's topics, you might find these resources helpful:

.cf-scroll-wrapper { background: #00000075;}