217 Why Discipleship Is So Rare In Our Churches
Without discipleship, we are left with a "shadow church"… a lot of religious trappings and tradition without the red hot center of the mission Jesus gave us at its core. Is the church stuck?
This week on the Lifeschool Podcast, we'll address why discipleship is so rare in our churches and we're calling church leaders to rethink and reframe what we actually mean by discipleship, to begin with.
If we keep talking about the lack of discipleship in our churches for another 20 or 30 years, like we have been—without changing things—we won't have this problem. Not because we've solved things, but because the Church will be all but irrelevant and further marginalized in society.
In This Episode You'll Learn:
Why we may not be talking about the same thing when it comes to discipleship.
A practical and super-helpful definition of discipleship that makes sense.
Why discipleship is equally important for not-yet believers as it is Christians.
7 Roadblocks and fears that may be keeping you, me, your pastor or the church from true discipleship and mission.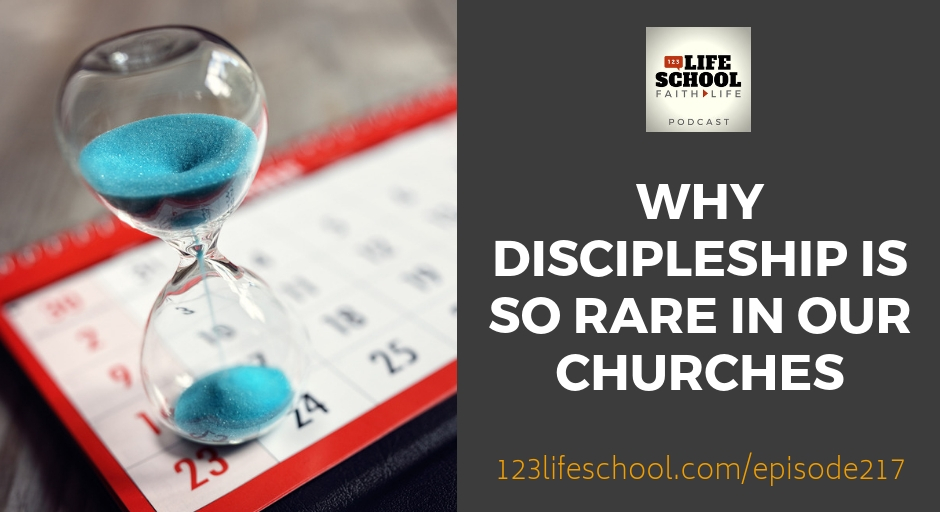 From this episode:
"The way many leaders approach maturity is to assume that knowledge produces maturity. But I have to ask, since when? It's wonderful that people understand what they believe, but knowledge in and of itself is not a hallmark of Christian maturity. As Paul says, knowledge puffs up. Love, by contrast, builds up. And some of the most biblically literate people in Jesus day got by-passed as disciples."
Each week the Big 3 will give you immediate action steps to get you started.
Download today's BIG 3 right now. Read and think over them again later. You might even want to share them with others…
Thanks for Listening!
Thanks so much for joining us again this week. Have some feedback you'd like to share? Join us on Facebook and take part in the discussion!
If you enjoyed this episode, please share it using the social media buttons you see at the top of this page or right below.
Also, please leave an honest review for The Lifeschool Podcast on iTunes. Ratings and reviews are extremely helpful and greatly appreciated! They do matter in the rankings of the show, and we read each and every one of them.

Links and Resources Mentioned in This Episode:
Free Download of the Big 3 For Episode #217
Start to experience a richer, day-to-day faith ALL WEEK LONG!
Registration for Caesar's "7 Moves to Missional Course" is open now.