Creating the Right Discipleship Environment Pt.1
Discipleship is an all of life apprenticeship led by Jesus himself. In order to make disciples of Jesus, who in turn, know how to make more disciples, we must pay close attention to the experience and environment that Jesus provided his disciples.
This week on the Lifeschool Podcast, we'll give you Part 1 of a two-part talk on the 10 necessary aspects you'll want to focus on in creating the right discipleship environment.
Discipleship for Jesus was never a series of curriculum or a set of events and classes that he asked his disciples to attend. Those kinds of things may teach what Jesus taught, but they don't create an experience where people learn to obey all that he commanded in every area of life.
In This Episode You'll Learn:
Why your "discipleship" may not be producing the desired results in your people.
Where, when and how often Jesus interacted with his disciples.
4 of the 10 necessary aspects of a healthy discipleship environment (like Jesus had).
Why your discipleship must be Spirit-led and Gospel-saturated!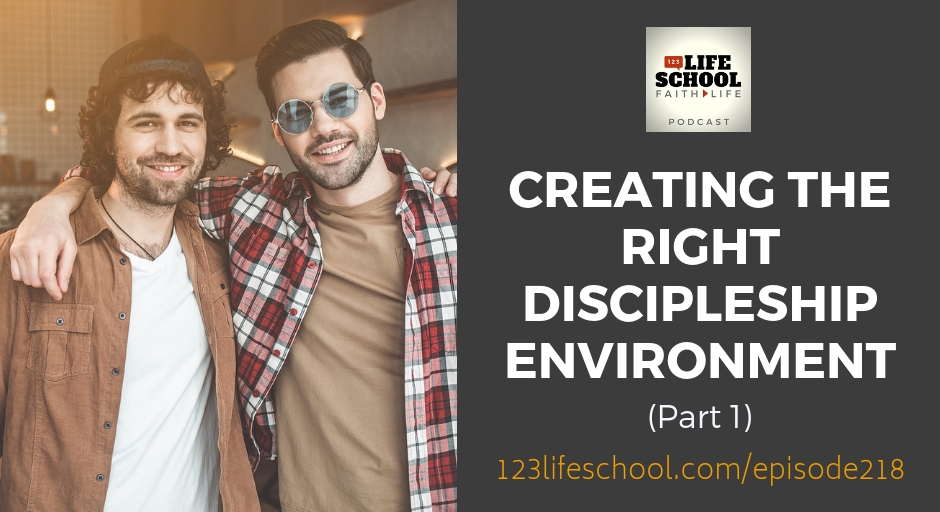 From this episode:
"Jesus discipleship wasn't merely a Sunday School class to attend… like once you got through the 9 weeks of discipleship training, boom–you're a disciple! That's how it was for me growing up in the church. I'm thankful for that time a certain man put into my life, it was something like nine 1-hour sessions. And for a very long time that was the extent of my discipleship. That's not what Jesus did."
Each week the Big 3 will give you immediate action steps to get you started.
Download today's BIG 3 right now. Read and think over them again later. You might even want to share them with others…
Thanks for Listening!
Thanks so much for joining us again this week. Have some feedback you'd like to share? Join us on Facebook and take part in the discussion!
If you enjoyed this episode, please share it using the social media buttons you see at the top of this page or right below.
Also, please leave an honest review for The Lifeschool Podcast on iTunes. Ratings and reviews are extremely helpful and greatly appreciated! They do matter in the rankings of the show, and we read each and every one of them.

Links and Resources Mentioned in This Episode:
Free Download of the Big 3 For Episode #218
What You Need to Stop Doing to Make More Disciples