215: Are You Too Comfortable for a Missional Life?
We live in a culture oriented entirely toward comfort, and the church is not immune to this allure. Are we just dissatisfied consumers hoping to find our perfectly customized dream job, dream house, dream vacation, and even our dream church and a perfectly comfortable dream life?
This week on the Lifeschool Podcast, we'll help you discover if you are already living too comfortably for the mission that Jesus called us—his Church, his disciples—to live out.
When Jesus said that we would do the things he has done and even greater things, we're reminded of a Savior who endured the discomfort of the cross to bring us new life… and then sent us out on his mission. 
In This Episode You'll Learn:
If your life is arranged for maximum comfort and pretty inflexible.

The areas of life you may have grown too comfortable in for a missional life.

How the Gospel speaks into where and Who we find our comfort.

7 signs that you may have slipped into a comfortable and complacent faith.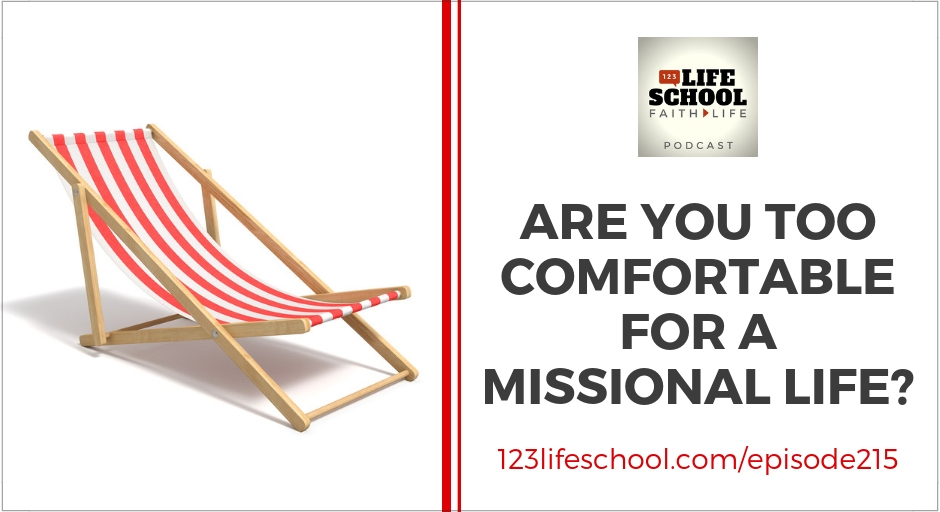 From this episode:
"If we want a comfortable faith, we best not give ourselves to Jesus Christ. But, as C.S. Lewis reminded us, if we want a faith grounded in ultimate reality, and one that matures us and others in the community, then Jesus is indeed the Way, the Truth, and the Life. Seeking a life of comfort is missing the point. Seeking Jesus and his glory in all of life is the goal."
Each week the Big 3 will give you immediate action steps to get you started.
Download today's BIG 3 right now. Read and think over them again later. You might even want to share them with others…
Thanks for Listening!
Thanks so much for joining us again this week. Have some feedback you'd like to share? Join us on Facebook and take part in the discussion!
If you enjoyed this episode, please share it using the social media buttons you see at the top of this page or right below.
Also, please leave an honest review for The Lifeschool Podcast on iTunes. Ratings and reviews are extremely helpful and greatly appreciated! They do matter in the rankings of the show, and we read each and every one of them.

Links and Resources Mentioned in This Episode:
Free Download of the Big 3 For Episode #215
Register for our FREE Discipleship and Mission Jumpstart 4-Day Challenge 
4 LIVE trainings with homework challenges each day to get you started fast!