214: Is Your Family Prepared for Missional Living?
The foundation of living as a 'family on mission' is believing you are part of God's family and seeing others as family members that God is looking to restore and bring close to himself. And all of it must be a natural outgrowth of our family life together on mission.
This week on the Lifeschool Podcast, we'll show you the steps you need to prepare your family to actually be ready for missional living.
Today, we are not talking about preparation to go overseas as a family, but how you can begin to prepare to live life together in community, right where you live, on mission together. Is your family prepared for missional living?
In This Episode You'll Learn:
How our true gospel identity sends us on mission as a family.

If your family is worth imitating and something others would want to join.

Initial rhythms of life you can establish in your home as a family.

FREE BONUS training you can access that will help you jumpstart missional living.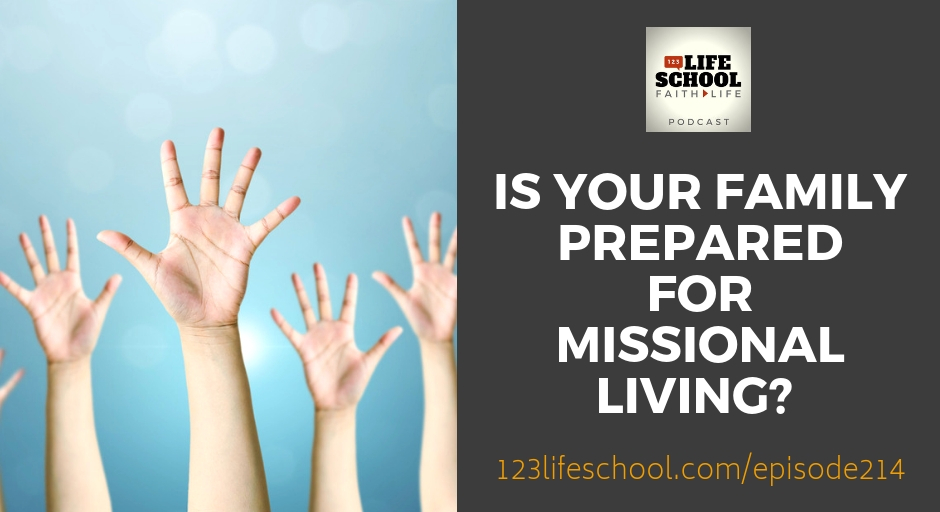 From this episode:
"The goal is that your family is living in such a way that discipleship and community naturally grow out of it. We're not looking to live two lives…an isolated "US/OUR life" and then throw a lasso around a bunch of folks once a week and try and get them into artificial rhythms, we want to live in such a way that as we invite folks into our lives and rhythms, they are in fact increasingly opportunities for discipleship."
Each week the Big 3 will give you immediate action steps to get you started.
Download today's BIG 3 right now. Read and think over them again later. You might even want to share them with others…
Thanks for Listening!
Thanks so much for joining us again this week. Have some feedback you'd like to share? Join us on Facebook and take part in the discussion!
If you enjoyed this episode, please share it using the social media buttons you see at the top of this page or right below.
Also, please leave an honest review for The Lifeschool Podcast on iTunes. Ratings and reviews are extremely helpful and greatly appreciated! They do matter in the rankings of the show, and we read each and every one of them.

Links and Resources Mentioned in This Episode:
Free Download of the Big 3 For Episode #214
Register for our FREE Discipleship and Mission Jumpstart 4-Day Challenge 
4 LIVE trainings with homework challenges each day to get you started fast!