Stop Waiting! Bloom Where You're Planted
With all of the changes we've seen in life over the past several months, many people I know have sort of stalled in their disciple-making and living life on mission. Everything is different and many seem to have lost their way and are feeling a bit stuck. Waiting…
In this episode of the Everyday Disciple Podcast, Caesar gives you 7 things to help get you unstuck, be encouraged, and start to bloom where you're planted.
In This Episode You'll Learn:
Where you're at now is preparation for what God has next.
Why it's time to stop making excuses.
The power of choosing to be "all in" regardless of your circumstances.
Small steps you can take, starting today!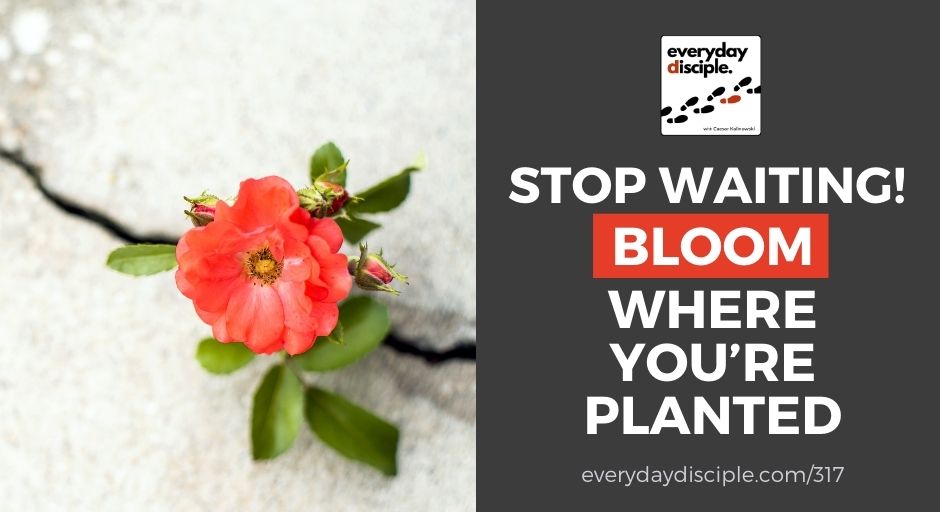 From this episode:
"Every step in life God is preparing you for the next one. Do you believe that? How are you stewarding all that God has given you now? Not just your stuff, but your circumstances. Yep, we get to steward our circumstances too. Stewardship is not just about money and hard resources. Luke 16:10 'Faithful with a little…faithful with a lot.' Our good Father in heaven is always preparing us for what's next on our journey of becoming more and more like Jesus and showing others the way."
Each week the Big 3 will give you immediate action steps to get you started.

Download today's BIG 3 right now. Read and think over them again later. You might even want to share them with others…
Thanks for Listening!
Thanks so much for joining us again this week. Have some feedback you'd like to share? Join us on Facebook and take part in the discussion!
If you enjoyed this episode, please share it using the social media buttons you see at the top of this page or right below.
Also, please subscribe and leave an honest review for The Everyday Disciple Podcast on Apple Podcasts or wherever you listen. Ratings and reviews are extremely helpful and greatly appreciated! They do matter in the rankings of the show, and we read each and every one of them.

Links and Resources Mentioned in This Episode:
Free Download of the Big 3 For Episode #317
Coaching with Caesar and Tina in discipleship and missional living.
Free Discipleship and Missional Resources