114: Redeeming Sexuality in the Eyes of the Church
Nothing has exposed the gap between the church and the broader society quite like the cultural argument over sexuality. Relationships, identities, orientations and even seemingly straightforward concepts such as gender have cut battle lines between the church and the world. In this episode we speak to Debra Hirsch, author of the book Redeeming Sex, and discover a holistic, biblical vision of sex and gender that honors God and offers good news to the world.
Deb reflects on some of her own journey with us as she brings fresh language and insightful definitions of sexuality into the context of the church. When you consider the world from the perspective of God's kingdom mission, it turns out the smoke clears and a redemptive imagination takes root.
Deb has been involved in social work, community development and as a trained counselor has worked in the field of sexuality for over twenty five years.
In This Episode You'll Learn:
Why sex and sexuality is such a "hot button" issue for the church

Why we need a much broader definition of human sexuality

How our understanding of sexuality can deepen our relationship with God

How the search for intimacy in relationships mirrors our search for God

What the church and Christians need to wake up to concerning sex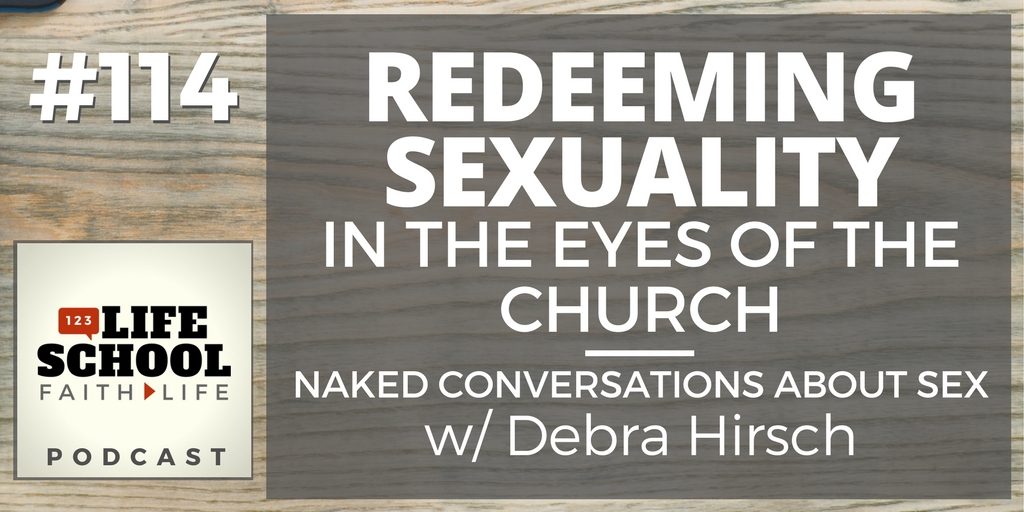 This is one of our absolute favorite episodes of Lifeschool so far. Deb's gentle and wise approach to this topic is at once refreshing and quite convicting. You will want to listen all the way through, and for sure please share this episode with everyone you know!
Please check out the link below to get Deb's amazing book.
Each week the Big 3 will give you immediate action steps to get you started.

Download today's BIG 3 right now. Read and think over them again later. You might even want to share them with others…
Thanks for Listening!
Thanks so much for joining us again this week. Have some feedback you'd like to share? Leave a note in the comment section below!
If you enjoyed this episode, please share it using the social media buttons you see at the top of this page or right below.
Also, please leave an honest review for The Lifeschool Podcast on iTunes. Ratings and reviews are extremely helpful and greatly appreciated! They do matter in the rankings of the show, and we read each and every one of them.
Links and Resources Mentioned in This Episode: 
Free Download of the Big 3 For Episode #114
Get Debra Hirsch's book, Redeeming Sex
Caesar Kalinowski's Website and Blog with Loads of Resources
Missio Publishing – More Missional Books and Resources