Rebooting Community Rhythms After Lockdown
As we move back toward normal and new rhythms in community, this can be a powerful time to re-evaluate our commitment to God's mission, which has always been making disciples of Jesus.
This week on the Lifeschool Podcast, we give you practical steps for rebooting your community rhythms as the lockdown and social distancing restrictions are beginning to lift.
In This Episode You'll Learn:
Your normal rhythms of life in community may need to be rebooted.
Why over-communication is key to re-establishing connections and community life.
How to speak to those who are afraid of starting to gather again in community.
The best things to do during your first few times together as you reboot.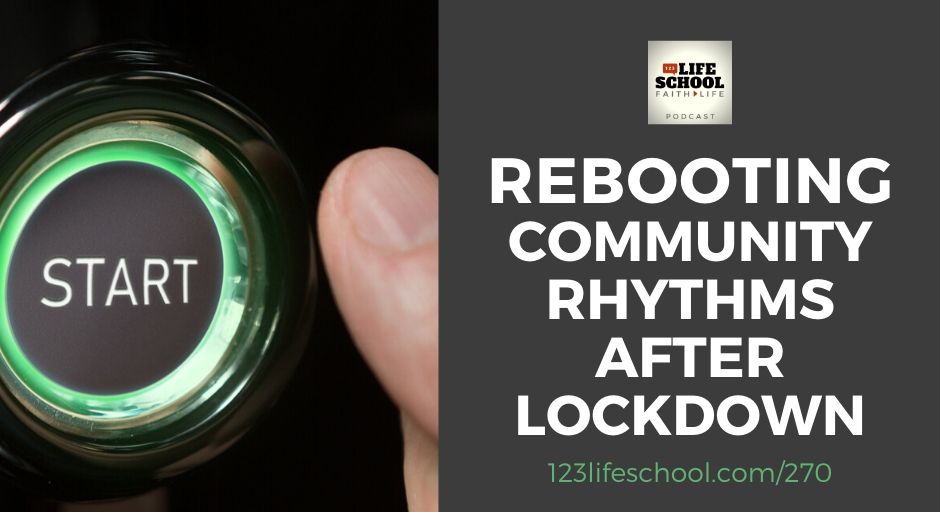 From this episode:
"This is a good time to recalibrate and be reminded of your mission: why does this community exist?! What has God said to you during this time of physical separation? In the wake of this pandemic, we can't assume everything will continue as in the past… So consider the time we've spent in lockdown mode as a God-given opportunity for missional evaluation. Are there things you should stop, fine-tune, or start in light of new and future paradigm shifts?"
Each week the Big 3 will give you immediate action steps to get you started.

Download today's BIG 3 right now. Read and think over them again later. You might even want to share them with others…
Thanks for Listening!
Thanks so much for joining us again this week. Have some feedback you'd like to share? Join us on Facebook and take part in the discussion!
If you enjoyed this episode, please share it using the social media buttons you see at the top of this page or right below.
Also, please leave an honest review for The Lifeschool Podcast on Apple Podcasts or wherever you listen. Ratings and reviews are extremely helpful and greatly appreciated! They do matter in the rankings of the show, and we read each and every one of them.
Links and Resources Mentioned in This Episode:
Free Download of the Big 3 For Episode #270
Caesar's Website with Loads of Discipleship Resources
Missio Publishing – More Missional Books and Resources
In light of today's topic, you might also find this helpful:
Life on Mission is Both Organized and Organic