The 'New Normal' Will Need Daring New Leaders
The 'new normal' we are entering into as believers will require daring new leaders who partner with their people, open new doors for not-yet believers, and model new ways of BEing the church.
This week on the Lifeschool Podcast, we talk about how our current and evolving reality will require church leaders to become humble guides and equippers. Our new normal will need new types of leaders!
In This Episode You'll Learn:
Why the Church must move beyond just live-streaming our old norms.
How our leaders were never equipped for the times we're entering into.
Why our pastors need to move from being "experts" to being active "guides".
Practical ideas for pastors, worship leaders, children, and youth workers.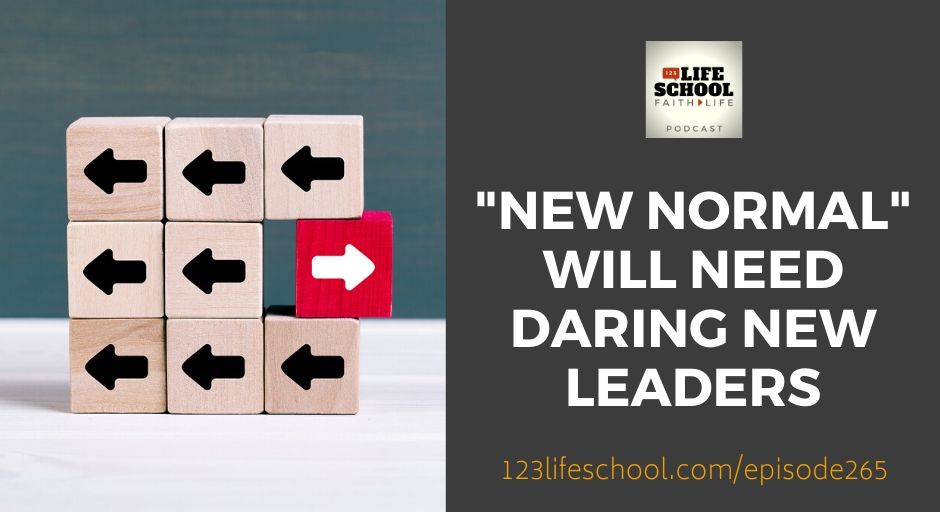 From this episode:
"Who knows when social activities, public gatherings, the church, and most of life will get back to normal. It seems in many ways we are entering into a 'new normal' that will cause us to reconsider how and why we do a lot of things… including, and maybe especially, as Church leaders worldwide."
Each week the Big 3 will give you immediate action steps to get you started.
Download today's BIG 3 right now. Read and think over them again later. You might even want to share them with others…
Thanks for Listening!
Thanks so much for joining us again this week. Have some feedback you'd like to share? Join us on Facebook and take part in the discussion!
If you enjoyed this episode, please share it using the social media buttons you see at the top of this page or right below.
Also, please leave an honest review for The Lifeschool Podcast on Apple Podcasts or wherever you listen. Ratings and reviews are extremely helpful and greatly appreciated! They do matter in the rankings of the show, and we read each and every one of them.
Links and Resources Mentioned in This Episode:
Free Download of the Big 3 For Episode #265
Everyday Disciple Challenge (Online-Starts April 20)
Everyday Disciple Incubator (Coaching Cohorts starting now!)
Missio Publishing – More Missional Books and Resources