207: Missional Living When Your Church Doesn't Support It
You desire to live a more missional life in community with others… making disciples in everyday life, but you don't have the support of your pastor and local church leadership. Now what?
This week on the Lifeschool Podcast, we'll speak to your heart first and then give you steps to get started and ways to help you get your leaders and others on board with this missional lifestyle.
God has always desired a worldwide, earthly family that would live in such a way as to show the world His love and generosity… inviting everyone to a place at His table. This needs to happen in all of the normal rhythms of everyday life… not just once each week.
In This Episode You'll Learn:
The crucial difference between most traditional churches and missional communities.

The

real

threats and fears that your opposition may be experiencing.

How Jesus was definitely in the "both/and" camp with a single focus.

Ways to get started living as an example of what's possible on mission for others.
And… an invitation to join Caesar in a 4-Day "Everyday Disciple Challenge" on Facebook.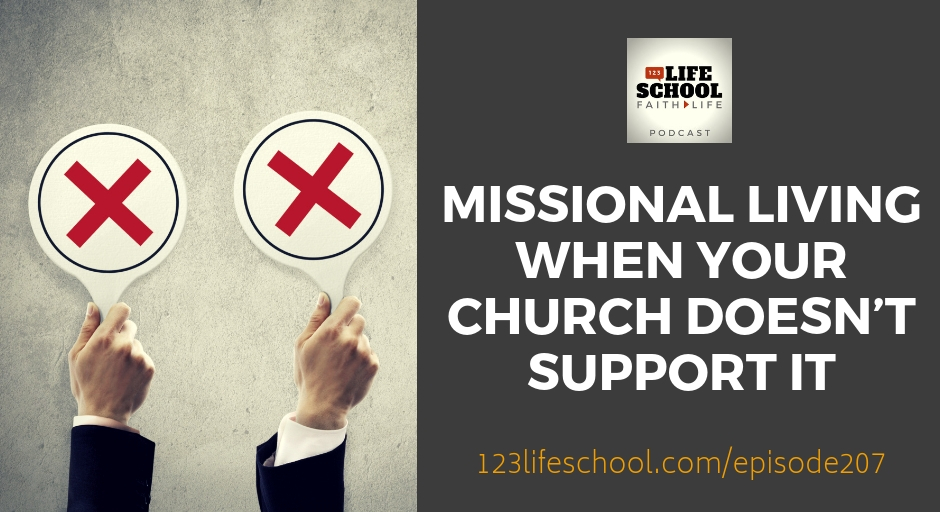 From this episode:
"Live as an example. Let your good deeds and humility shine the light for all to see. You will never lead a movement of change by being against anything. What are you for? It is better to light a candle than to curse the darkness."
Each week the Big 3 will give you immediate action steps to get you started.
Download today's BIG 3 right now. Read and think over them again later. You might even want to share them with others…
Thanks for Listening!
Thanks so much for joining us again this week. Have some feedback you'd like to share? Join us on Facebook and take part in the discussion!
If you enjoyed this episode, please share it using the social media buttons you see at the top of this page or right below.
Also, please leave an honest review for The Lifeschool Podcast on iTunes. Ratings and reviews are extremely helpful and greatly appreciated! They do matter in the rankings of the show, and we read each and every one of them.

Links and Resources Mentioned in This Episode:
Free Download of the Big 3 For Episode #207
Join Caesar for his FREE 4-day challenge, where he'll walk you through exactly how he does Everyday Discipleship, in normal rhythms of life with others. (Like Jesus did.)
During this challenge, you will get started with a proven process for making disciples and keeping it "sticky" and super-reproducible.
We get started here on March 18, 2019 >> http://123lifeschool.com/challenge