185: How Do We Love Mercy and Do Justice?
It seems like it only takes a few seconds being on social media or TV to see people crying out for justice. We often speak of "getting justice", but the Bible speaks of "doing justice".
This week on the Lifeschool Podcast, we discuss the command in scripture to love mercy and do justice… and if our cultural understanding and experience of justice is lining up with God's heart and hopes.
Justice is disillusioning… Where do you draw the lines of where justice starts and end? We all have different ideas on correct levels of justice—what is just and what is not. How do we set a baseline of what justice (or maybe even injustice) looks like? Who sets the bar?
In This Episode You'll Learn:
Life-changing (and biblical) definitions of mercy and justice.

What exactly produces a "love of mercy" in our own hearts and lives.

How God's "justice" will change the world.

How we can participate in God's restorative justice in the lives of others.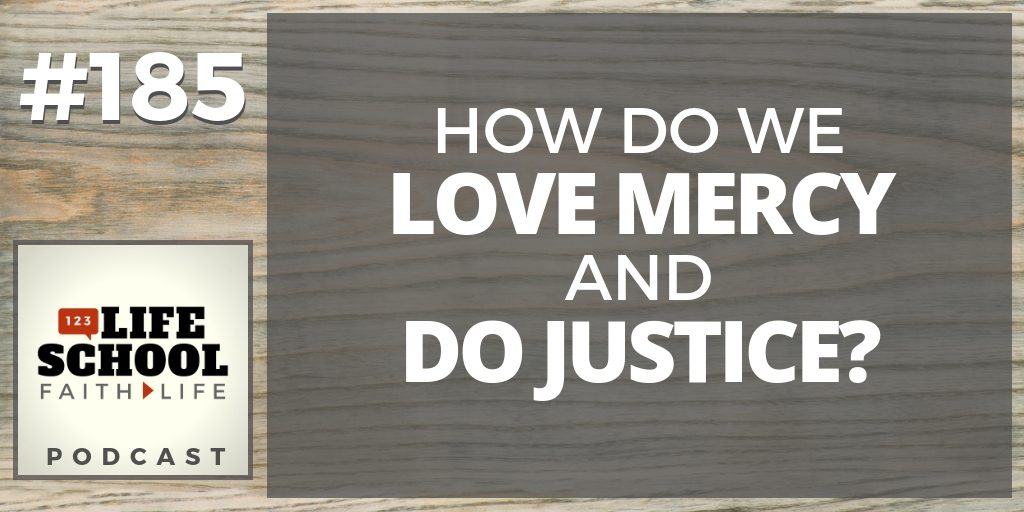 From this episode:
"Justice is really about restoration. Getting even or punishing people for their screw-ups is going in the wrong direction. It's working against God's purposes. God is not interested in getting even; he wants people to see who they really are–who they were meant to be. How they should live. For things to be made right, restored."
Each week the Big 3 will give you immediate action steps to get you started.
Download today's BIG 3 right now. Read and think over them again later. You might even want to share them with others…
Thanks for Listening!
Thanks so much for joining us again this week. Have some feedback you'd like to share? Join us on Facebook and take part in the discussion!
If you enjoyed this episode, please share it using the social media buttons you see at the top of this page or right below.
Also, please leave an honest review for The Lifeschool Podcast on iTunes. Ratings and reviews are extremely helpful and greatly appreciated! They do matter in the rankings of the show, and we read each and every one of them.

Links and Resources Mentioned in This Episode:
Free Download of the Big 3 For Episode #185
The Justice Primer will walk you step-by-step as a group into understanding what it means to love mercy and do justice among the least of these in your area.
Missio Publishing – More Missional Books and Resources
Caesar Kalinowski's Website and Blog with Loads of Resources
In light of today's topics, you might find these posts and videos helpful: