Living As a Friend Of Sinners
Often we let others' sin define them and divide us. But our ongoing involvement and relationship with others, especially those we think of as "sinners", begins with a profound grasp of God's grace.
In this episode of the Everyday Disciple Podcast, we'll see why Jesus came to be called a friend of sinners. And I'll share the journey we've been on to earn that same moniker for ourselves as we make disciples where we live.
In This Episode You'll Learn:
The #1 thing we have in common with everyone else in life.
How to know if you're a "clean" sinner or a "dirty" sinner.
Why Jesus' hung out with the outsiders and why we want to as well.
How I came to be known as the Pub Pastor. 😄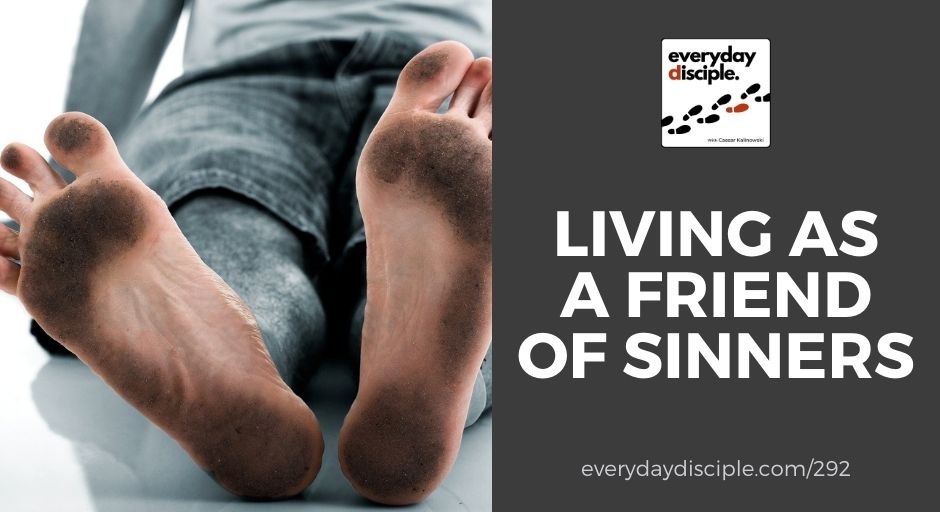 From this episode:
"Christians will cite John 15:14 ('You are my friends if you do what I command.') as their justification for not wanting to hang out with those they see as "sinners". What a horrible example of proof-texting! The entire passage there has Jesus explaining how he loved his disciples and chose them while they were still jacked up and far from God. Can you imagine a parent saying that to their kids? 'You are only my child when you obey me. Otherwise I don't love you.' What? That would be crazy. That is the exact opposite of the heart of our Father and his son Jesus."
Each week the Big 3 will give you immediate action steps to get you started.

Download today's BIG 3 right now. Read and think over them again later. You might even want to share them with others…
Thanks for Listening!
Thanks so much for joining us again this week. Have some feedback you'd like to share? Join us on Facebook and take part in the discussion!
If you enjoyed this episode, please share it using the social media buttons you see at the top of this page or right below.
Also, please subscribe and leave an honest review for The Everyday Disciple Podcast on Apple Podcasts or wherever you listen. Ratings and reviews are extremely helpful and greatly appreciated! They do matter in the rankings of the show, and we read each and every one of them.
Links and Resources Mentioned in This Episode:
Free Download of the Big 3 For Episode #292
Coaching with Caesar and Tina in discipleship and missional living.
Missio Publishing – More Missional Books and Resources