How To Talk About Politics With Your Kids
Political talk is everywhere right now — it's on the news and all over social media, it's happening between friends and family, and it's most likely happening at your kitchen table too. I wonder… what are your kids hearing?
In this episode of the Everyday Disciple Podcast, Caesar shares insights on how to talk politics with your children, giving them the tools and gospel-perspective to make wise political choices throughout their lives.
In This Episode You'll Learn:
Why talking about politics with your kids at an early age is important.

How to teach them NOT to believe everything they hear.
How to use gospel-fluency to frame the conversation around politics.
5 Tips for changing the conversation right now.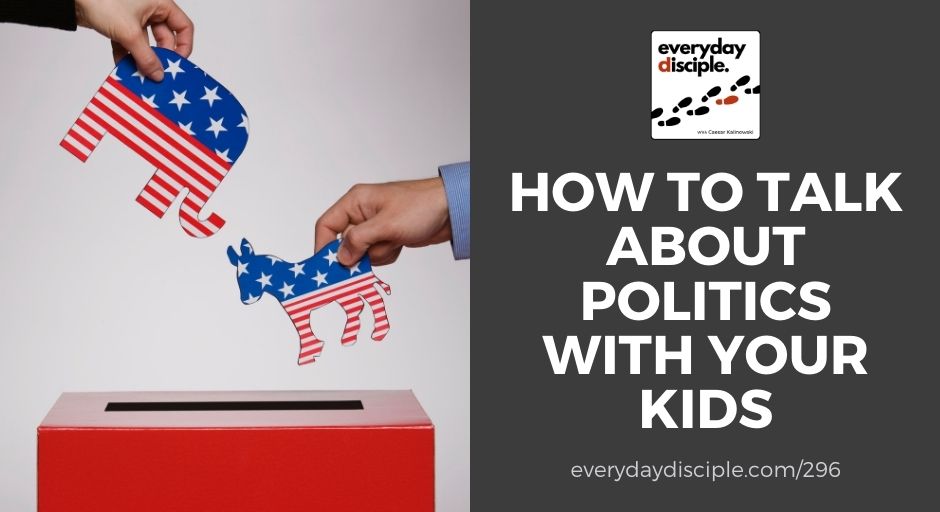 From this episode:
"As parents, we want to transmit a value system to our children. For most of us, the idea of our kids switching from blue to red, or vice versa, is pretty scary and maybe unacceptable. I think what we want to do is seek to help our kids grow political literacy, equipping our children to make considered, rational choices from a place of integrity and the gospel, regardless of whether they adopt our specific political party and beliefs."
Each week the Big 3 will give you immediate action steps to get you started.

Download today's BIG 3 right now. Read and think over them again later. You might even want to share them with others…
Thanks for Listening!
Thanks so much for joining us again this week. Have some feedback you'd like to share? Join us on Facebook and take part in the discussion!
If you enjoyed this episode, please share it using the social media buttons you see at the top of this page or right below.
Also, please subscribe and leave an honest review for The Everyday Disciple Podcast on Apple Podcasts or wherever you listen. Ratings and reviews are extremely helpful and greatly appreciated! They do matter in the rankings of the show, and we read each and every one of them.
Links and Resources Mentioned in This Episode:
Free Download of the Big 3 For Episode #296
Coaching with Caesar and Tina in discipleship and missional living.