Leading the Scattered Church on Mission
Everything that has happened in the past several months, especially social distancing restrictions, has scattered the Church back out into our neighborhoods and cities like never before. Is this a problem or an opportunity?
In this episode of the Everyday Disciple Podcast, we'll talk through the "what, why, and how" of leading the scattered church on mission. Perhaps you've been placed in your position for such a time as this!

In This Episode You'll Learn:
Why the Church was always meant to be a 'Gathered and Scattered' people.
Why when we embrace more scattered, missional modes of being the Church, it greatly enhances our gathered experiences.
3 foundational steps leaders need to be taking right now with their folks.
An opportunity to get FREE discipleship tools and training that you can use in your context today.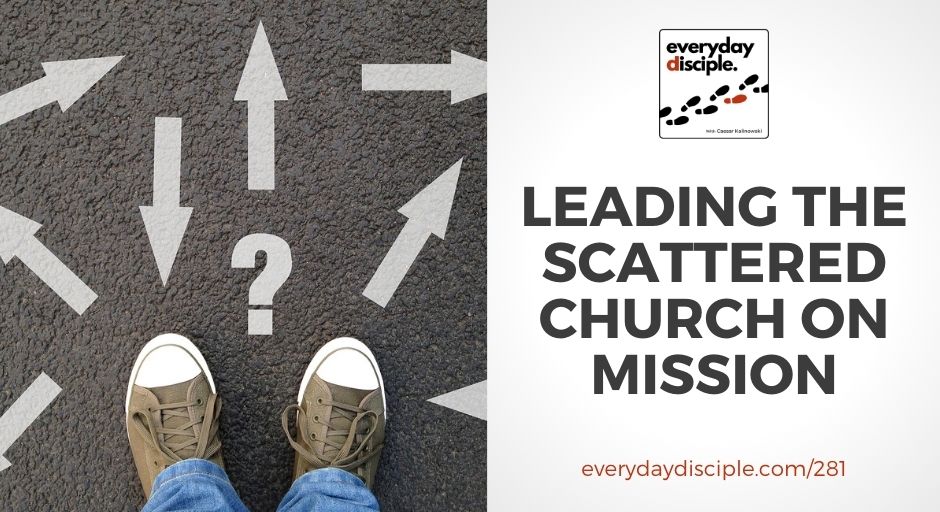 From this episode:
"The last forty years of Sunday services, biblical sermons, safe childcare, affinity-based small groups, and programs to fit any need are not producing the strain of Christians that have significantly changed the culture. We are doing better church services than we have in the past as a result of presentation-enhancing tools, yet we wonder if all our resources may actually be hindering our growth if growth is supposed to include depth of transformation."
Each week the Big 3 will give you immediate action steps to get you started.

Download today's BIG 3 right now. Read and think over them again later. You might even want to share them with others…
Thanks for Listening!
Thanks so much for joining us again this week. Have some feedback you'd like to share? Join us on Facebook and take part in the discussion!
If you enjoyed this episode, please share it using the social media buttons you see at the top of this page or right below.
Also, please subscribe and leave an honest review for The Everyday Disciple Podcast on Apple Podcasts or wherever you listen. Ratings and reviews are extremely helpful and greatly appreciated! They do matter in the rankings of the show, and we read each and every one of them.

Links and Resources Mentioned in This Episode:
Everyday Disciple Challenge and Workshop – Register Now!
AND: The Gathered and Scattered Church by Halter/Smay
Free Download of the Big 3 For Episode #281
Everyday Disciple: FREE Discipleship Resources and Training.