124: What to Do with Kids in Your Missional Community
Kids are great! But sometimes when it comes to having a bunch of them at all different ages corralled together, things can feel hectic and distracted. One of the most common questions we hear connected to this is, "what do you do with kids in your missional community? How do you handle them, what types of activities do you do for them etc.?" In this episode of Lifeschool we'll help you solve this and give you a bunch of ideas on how to include your kids on mission.
The Church is a family, always has been, and it is vital that we learn how to include everyone in the mission that God has called us to. Even (or especially) our kids. So my answer usually starts off with a few questions…
In This Episode You'll Learn:
How life in a missional community with kids actually mirrors the rest of your life

Why kids are vital to the mission and can be a "secret weapon" for you

Why a true missional community and lifestyle can never be jammed into a single evening each week

7 easy and practical ways to include your kids in your missional community

A cool (rare) training opportunity you can join with Caesar and Heath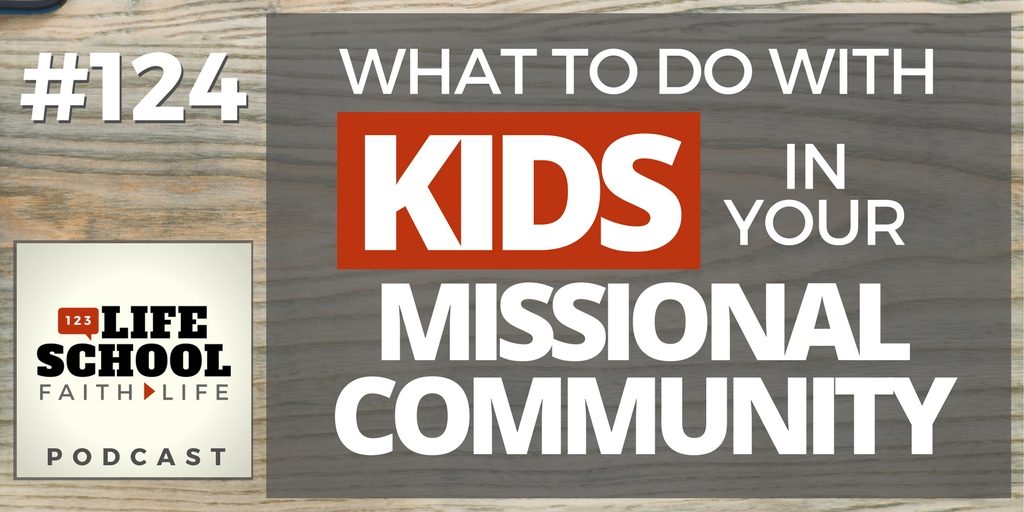 Kids are part of your family and an important part of your missional community. They are not just an annoyance or people to be entertained. Healthy families have people of all ages involved in important ways and together display what the kingdom of God is like.
We want you to have the tools, confidence and encouragement you need to have a healthy family and vibrant life in missional community. A lifestyle of discipleship and mission.  Check out a rare opportunity to join Caesar, Heath and their families and see what this really looks like, and learn for yourself how to live and replicate this missional lifestyle.
Each week the Big 3 will give you immediate action steps to get you started.
Download today's BIG 3 right now. Read and think over them again later. You might even want to share them with others…
Thanks for Listening!
Thanks so much for joining us again this week. Have some feedback you'd like to share? Leave a note in the comment section below!
If you enjoyed this episode, please share it using the social media buttons you see at the top of this page or right below.
Also, please leave an honest review for The Lifeschool Podcast on iTunes. Ratings and reviews are extremely helpful and greatly appreciated! They do matter in the rankings of the show, and we read each and every one of them.
Links and Resources Mentioned in This Episode:
Free Download of the Big 3 For Episode #124
LAUNCH Integrated Lifestyle Apprenticeship
Missio Publishing – More Missional Books and Resources