183: How to Transition to a Spiritual Conversation
It can seem like the scariest and most awkward thing to do in life and relationships: you're having a nice conversation, and you feel it's time to bring up Jesus or transition to spiritual things. Yikes!
This week on the Lifeschool Podcast, we discuss how to transition normal, everyday discussions to spiritual conversations—without it being weird.
We are too often compelled by guilt to transition to spiritual conversations. We are supposed to try and slip in a little "Jesus talk" or church stuff whenever we can… right? But most of the techniques we've been taught are just that–techniques. And they can feel like a sales pitch to others and ourselves!
In This Episode You'll Learn:
Why we are afraid to engage in spiritual conversations.

The most common excuses we have and the lies behind them.

How past "techniques" rarely, if ever, end up being beneficial.

Why the gospel is NOT a set of facts about sin, hell, and our afterlife.

Effective ways to transition to spiritual conversations that are actually Good News.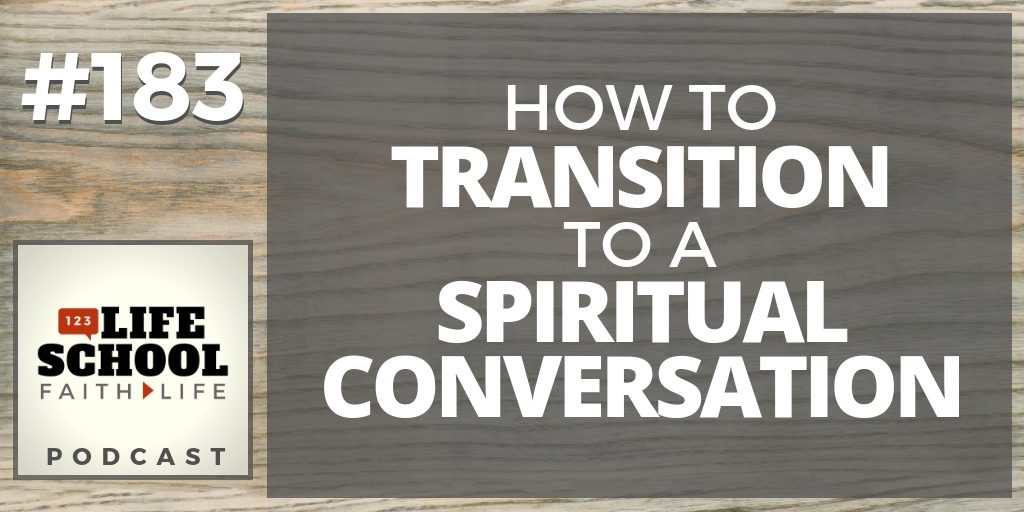 From this episode:
"If our understanding of the gospel and spiritual things is focused primarily on some yet-to-be-seen afterlife, it will probably always seem weird or irrelevant to talk about it."
Each week the Big 3 will give you immediate action steps to get you started.
Download today's BIG 3 right now. Read and think over them again later. You might even want to share them with others…
Thanks for Listening!
Thanks so much for joining us again this week. Have some feedback you'd like to share? Join us on Facebook and take part in the discussion!
If you enjoyed this episode, please share it using the social media buttons you see at the top of this page or right below.
Also, please leave an honest review for The Lifeschool Podcast on iTunes. Ratings and reviews are extremely helpful and greatly appreciated! They do matter in the rankings of the show, and we read each and every one of them.

Links and Resources Mentioned in This Episode:
Free Download of the Big 3 For Episode #183
Coaching that Caesar is offering.
If you are interested in learning more about being coached and mentored by Caesar toward life in a missional community, and learning how to disciple others, click here now.
In light of today's topics, you might find this resource helpful: