190: How To Deal With Difficult People in Your Life
We all have those people in life who just rub us the wrong way. How are we supposed to deal with that? Ignore them, avoid them? Or… is there another way?
This week on the Lifeschool Podcast, we'll teach you how to deal with difficult people in your life. Whether they're family members, co-workers, or people in your community, this will help you maintain healthy relationships–and your sanity.
Jesus dealt with lots of challenging people. And compared to him, everyone is a difficult person! Look in the mirror to see one. Truth is, you can be pretty sure that you may be on someone's "list" as hard to deal with in certain ways too.
In This Episode You'll Learn:
A deeper look at some of the difficult people Jesus encountered and how he dealt with them.

How to identify 4 different types of difficult people.

How to understand 'the thing behind the thing' with each of the 4 types.

Why difficult people present easy opportunities for discipleship.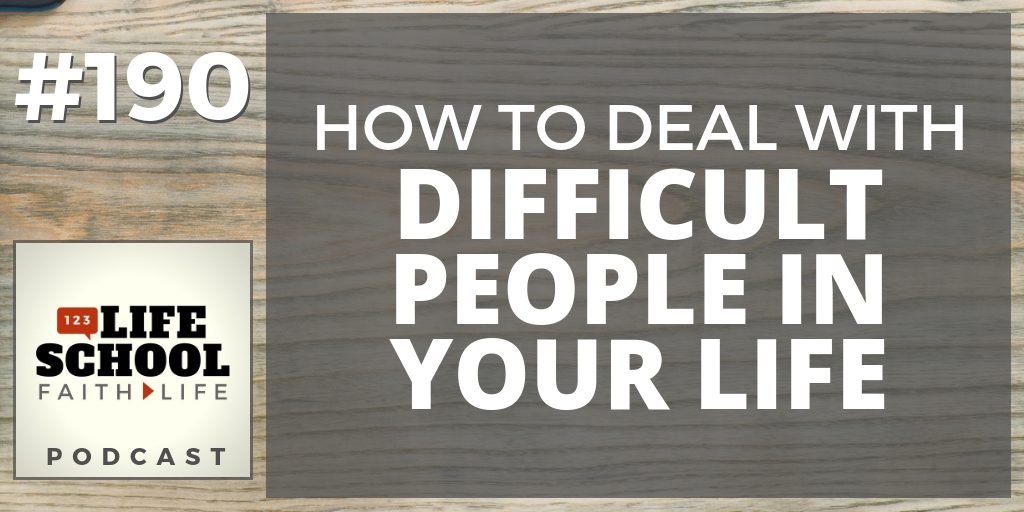 From this episode:
"When we take the time necessary to gently address a person in a way that they can hear and receive, a bond of trust is built that can change how they act and how we respond to them. When you listen, ask good questions, and seek to understand "the thing behind the thing", it is always a gospel issue that leads to any of us being difficult or argumentative."
Each week the Big 3 will give you immediate action steps to get you started.
Download today's BIG 3 right now. Read and think over them again later. You might even want to share them with others…
Thanks for Listening!
Thanks so much for joining us again this week. Have some feedback you'd like to share? Join us on Facebook and take part in the discussion!
If you enjoyed this episode, please share it using the social media buttons you see at the top of this page or right below.
Also, please leave an honest review for The Lifeschool Podcast on iTunes. Ratings and reviews are extremely helpful and greatly appreciated! They do matter in the rankings of the show, and we read each and every one of them.

Links and Resources Mentioned in This Episode:
Free Download of the Big 3 For Episode #190
Missio Publishing – More Missional Books and Resources
Caesar Kalinowski's Website and Blog with Loads of Resources
In light of today's topics, you might find these posts and videos helpful: