188: Conversion Without Discipleship? Why You Need Both
Church doctrines of grace and salvation, in some cases, may actually prevent us from creating an expectation that we are to be and make disciples. Do our existing models of evangelism and discipleship fail to produce true followers of Jesus?
This week on the Lifeschool Podcast, we dive into the importance of recovering a robust view of the gospel and taking seriously the connection between conversion and discipleship with Bill Hull, a "discipleship evangelist" (I love that term!) who's the author of a bunch of bestselling discipleship classics.
A person can profess to be a Christian and yet still live under the impression that they don't need to actually follow Jesus. Being a follower and disciple is seen as an optional add-on, not a requirement. It is a choice, not a demand. Being a Christian today, unfortunately, has little connection with the biblical idea that we are formed into the image and identity of Christ.
In This Episode You'll Learn:
A historical definition of "conversion" that you'll find clarifying.

Why conversion and discipleship are two sides of the same coin.

The problems the Church experiences because they've split (or ignored) these two functions.

Why having a bigger view of the gospel is the solution to this problem.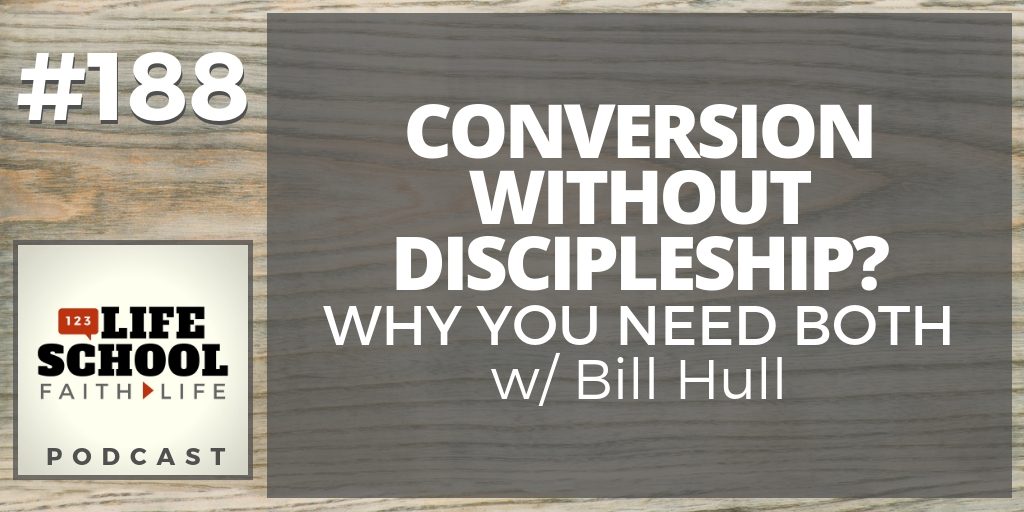 From this episode:
"You'll never make a disciple from a non-discipleship gospel. A gospel that does not include disciples making disciples, and all true Christians are disciples of Jesus, is actually a very truncated gospel and not really the gospel Jesus proclaimed and preached."
Each week the Big 3 will give you immediate action steps to get you started.
Download today's BIG 3 right now. Read and think over them again later. You might even want to share them with others…
Thanks for Listening!
Thanks so much for joining us again this week. Have some feedback you'd like to share? Join us on Facebook and take part in the discussion!
If you enjoyed this episode, please share it using the social media buttons you see at the top of this page or right below.
Also, please leave an honest review for The Lifeschool Podcast on iTunes. Ratings and reviews are extremely helpful and greatly appreciated! They do matter in the rankings of the show, and we read each and every one of them.

Links and Resources Mentioned in This Episode:
Free Download of the Big 3 For Episode #188
Bill Hull's book "Conversion and Discipleship–You Can't Have One Without the Other"
Get Caesar's latest book: Bigger Gospel for FREE… Click here.