198: A Million Little Things: Discipleship in the Real World
Wouldn't it be great if Jesus had just left us his "5 Big Steps" or "3 Important Ingredients" for disciple-making? It would be so much simpler if discipleship in the real world was a little more spelled out and outlined into a few basics.
This week on the Lifeschool Podcast, we're going to show you how discipleship looks less like one big thing or series of classes… and more like a million little things.
We've made discipleship a lot more complicated than it was ever meant to be. When Jesus commanded us to "go and make disciples," he was not commanding us to hold a specific set of classes or scheduled routines but to enter into the everyday lives of people. Into all the little stuff of life.
In This Episode You'll Learn:
Why there will never be a perfect set of classes or "one big thing" that adds up to maturity in our churches.

How Romans 8:28 helps clarify what God is up to when it comes to our sanctification.

Why dependence on the works of the Holy Spirit is crucial in discipleship.

Why disciple-making was

never

meant to be the job of a few professionals.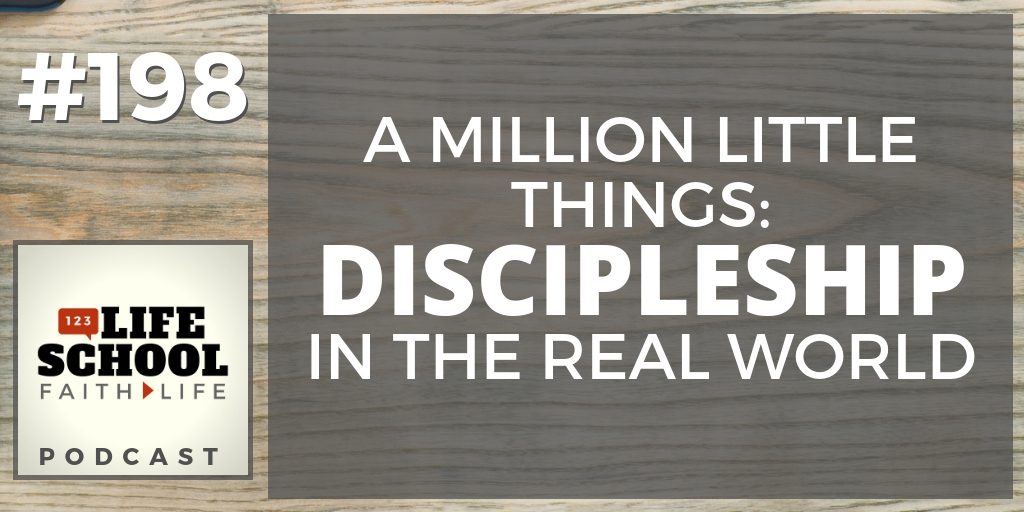 From this episode:
"I think we've overcomplicated discipleship… and sort of dumbed it down to a set of learnings and head knowledge instead of an experience with others of how the gospel of Jesus speaks into and shapes a million little things that all add up to the life we were created to live: His life."
Each week the Big 3 will give you immediate action steps to get you started.
Download today's BIG 3 right now. Read and think over them again later. You might even want to share them with others…
Thanks for Listening!
Thanks so much for joining us again this week. Have some feedback you'd like to share? Join us on Facebook and take part in the discussion!
If you enjoyed this episode, please share it using the social media buttons you see at the top of this page or right below.
Also, please leave an honest review for The Lifeschool Podcast on iTunes. Ratings and reviews are extremely helpful and greatly appreciated! They do matter in the rankings of the show, and we read each and every one of them.

Links and Resources Mentioned in This Episode:
Free Download of the Big 3 For Episode #198
Missio Publishing – More Missional Books and Resources
Caesar Kalinowski's Website and Blog with Loads of Resources
In light of today's topics, you might find these posts and videos helpful: